| | |
| --- | --- |
| Computer In-Kind Donation via FreeGeek Seattle & FCS STEAM Lab | |
Event Details
Got an Old/Used Working Computer?
Computer In-Kind Donations 
 Donation Location and Times:
 FreeGeek Seattle at FCS Technology & Media Center STEAM Lab
Address: 5470 Martin Luther King Jr. Way, Seattle, WA 98118
Times: 10am - 5pm
Room: Tech and Media Lab (See Front Desk Staff on 1st Floor)
*Note that we are in the process of adding additional donation locations in Seattle for you convenience
Have you gotten a new computer and need to remove your old "working" computer?
If you are considering recycling or refurbishing your old or unused working desktop or laptop computer system, we now provide a drop off location to accept working computer donations. 
Where does your donation go?
The computers are refurbished by FreeGeek Seattle who partners with FCS STEAM Lab to support free technology education and computer re-use programs to benefit the community. 
Your donation of a working old computer desktop or laptop provides the necessary bill of materials for adult and youth volunteers 

to learn about the exciting world of sustainable computing best practices and STEAM (Science, Technology, Engineering, Arts, and Math) within a fun and safe community environment.

 
Participants engaged in this program learn the basics and advanced topics on computer hardware, software, and learn to provide tech support of computer and networks for other business or non-profit organizations with the goal that they are building important work-integrated project based skills and obtaining technical job certifications.
Computers are refurbished by the adult and youth volunteers in FreeGeek Seattle, who donates refurbished computers to any volunteer who completes the Adoption or Build programs, as well as, the other non-profit organizations that share a common purpose in serving the community.
We support reuse of technology for a more sustainable planet. We ask that in-kind computer donations are for only "working" computers that can be refurbished and re-used. By accepting only working computers, we have a greater chance to ensure that the computer is properly cleaned, refurbished, and re-granted to those in need. Although we are capable of handling non-working parts, in-kind donations of known damaged computers or parts should be directed to ethical electronic recycling programs that are available in WA. Free Geek partners with local WA E-cyclers to ensure that donations are processed appropriately.
Drop-Off Appointments can be scheduled on during the business times of between 10AM - 5PM on days where the FCS center is staffed at the front desk, except for holidays. We suggest you schedule your appointment on days between Tues - Sat.
We have the ability to pickup but require additional information on the location and date/time availability. Please submit your registration indicating you would like to have a pickup rather than a drop off.
If you have a donation, please register your appointment date by filling out the online form at:
You can register your drop-off time by clicking on the "Register" button above. You can arrive anytime during the drop-off time range for your date of appointment.
For any questions please e-mail the organizer at donate@freegeekseattle.org
Can I provide other help?
Monentory Donations: 
If you would you like to support via a monetory donation, please use the Support via Online Monetary Donation ticket. You generous donation will be process via the online payment system. You can maintain your receipt as your record of monetary donation to FCS STEAM Lab who is a 501c3 non-profit organization in WA state.
Volunteers:  
Free Geek Seattle is also actively looking for volunteer instuctors and interns to support the programs. If you are interested, we would be glad to introduce you to the many opportunities to help the community benefit from our sustainable computing programs.
Promote Computer Donations: We love any support via sharing this link with your friends and family to also donate their un-used old, working computer to this program. Please forward the following link in your social network sharing: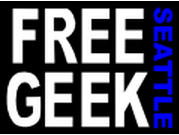 Thank you for your generous support of and we hope to see you there soon!
When & Where

Free Geek Seattle in FCS Tech & Media Lab
5740 Martin Luther King Jr Way S
ATTN: FREEGEEK SEATTLE DONATIONS
Seattle, WA 98118


Organizer
This donation program is proudly supported by FreeGeek Seattle (FGSEA) and FCS STEAM Lab. Free Geek Seattle
 is a volunteer organization focused on sustainable computing and education in partnership with FCS STEAM Lab. FCS STEAM Lab is a computer literacy and technology access program that supports education of youth in low-income communities. FCS is a registered 501c3 non-profit organization in WA state.