This is a two-day program September 27 & 28, 2021 You may register for a single day or both days !
About this event
TUITION
Total Tuition = Tuition+ Service Fee + Process Fee
$115 single day for Allina employees and affiliates ($108.49)
$225 both days for Allina employees and affiliates ($213.20)
External Attendees Tuition
$140 single day for external participants ($132.28)
$275 both days for external participants ($260.78)
Tuition fee includes conference educational credits, materials, parking, and meal.
COURSE DESCRIPTION
This course is a review of rehabilitation nursing designed to assist the participant in successfully obtaining CRRN certification. The course offers lectures, graphics, and practice questions in many of the areas that are tested on the CRRN Exam. This review will provide not only a knowledge base for successfully completing the exam, but also a foundation for further study as the participant works towards rehabilitation nursing certification.
LEARNING OUTCOMES
Upon completion of this educational activity, the participant should be better able to:
Identify models and theories as they apply to standards of care in order to plan, implement and evaluate nursing practice.
Discuss the functional health patterns related anatomy, physiology, assessment and intervention for chronic illness, injury and disability.
Describe the functions of the rehabilitation team members, including case managers and how they prepare the patient/family for community re-entry.
Integrate the knowledge of ethical, economic, legislative and legal issues into nursing practice in order to advocate for rehabilitation patients.
TARGET AUDIENCE
This exam prep review course will benefit any nurse working in rehabilitation nursing or the nurse who is new to rehabilitation nursing. Rehabilitation nursing certification is the certification specific to rehabilitation nursing and measures attainment of a defined body of nursing knowledge pertinent to that particular specialty. This course is intended to prepare the nurse to take the Certified Rehabilitation Registered Nurse (CRRN) Exam. Nurses new to rehabilitation nursing can also take the course to become more knowledgeable about the principles of rehabilitation and the nursing care that rehabilitation patients require.
WHY BE CERTIFIED?
Certification in the rehabilitation specialty shows that you have taken the extra step to validate your knowledge and skills. Certification demonstrates to your colleagues and patients your commitment to excellence in rehabilitation nursing practice. CNNR certified nurses are committed to providing the highest quality care to their patients.
CERTIFICATION INFORMATION
Visit the following website for information on certification examination details:
https://rehabnurse.org/crrn-certification/crrn-certification
Examination Dates for 2021/2022 are:
December 1-31, 2021 (Regular deadline is October 15, 2021)
June 1-30, 2021 (Regular deadline is April 15, 2021)
CRRN Examination is administered via computer in two one-month test windows.
FACULTY
Paula Martinkewiz, MS RN CRRN holds a Master of Science in Nursing from the University of Oklahoma. She has 30 years of experience in rehabilitation nursing clinical specialty as the Director of Clinical Support Services for a National Company. She is the President of her own consulting company, Integrated Rehab Solutions, LLC. Ms. Martinkewiz is certified in rehabilitation nursing.
PLANNING COMMITTEE
Abi Daramola, RN-BC, BSN, MBA, Mary Baumgartner, RN, MSN and Brandy Kozitza, DNP, APRN, CNS, ACCN-AG, CCRN
DISCLOSURE POLICY
All faculty and planning committee members participating in sponsored activities and/or their spouses or partners are required to disclose to the symposium audience any real or apparent conflict(s) of interest related to the content of this activity.
LOCATION & PARKING
Allina Health Commons - Pettingill Hall (Greenway Level)
2925 Chicago Ave. , Minneapolis, MN 55407*Allina Commons Parking is located in the ramp adjacent to the Midtown Exchange Building on 10th Avenue South.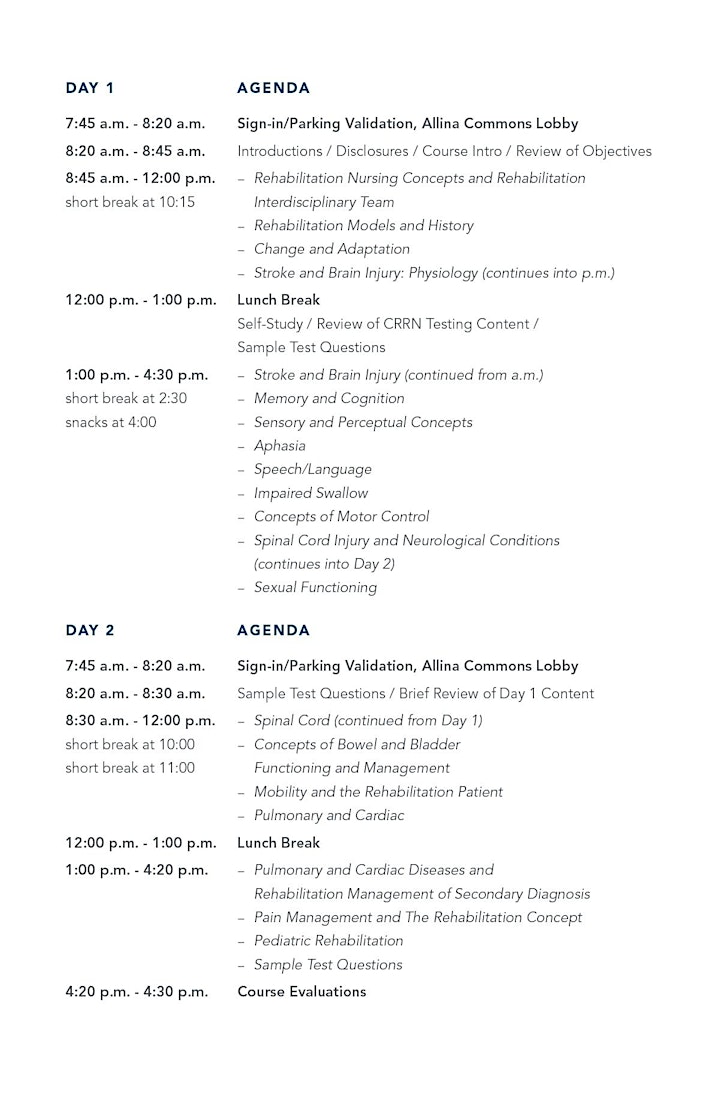 ACCREDITATION
This activity has been submitted to the WNA CEAP for approval to award contact hours. Wisconsin Nurses Association is accredited as an approver of continuing nursing education by the American Nurses Credentialing Center's Commission on Accreditation.
Organizer of Comprehensive Review of Rehabilitation Nursing: A CRRN Review Course
Allina Health
We believe your most valuable asset is your good health. Our clinics, hospitals and additional care services are dedicated to meeting the lifelong health care needs of communities throughout Minnesota and western Wisconsin. Allina Health offers a full range of primary and specialty care services including technically advanced inpatient and outpatient care, 24-hour emergency care, medical transportation, pharmacy, and home and community services.
Our nearly 24,000 employees, 5,000 associated and employed physicians and 2,500 volunteers share a common mission - to deliver exceptional health care and support services to the people of our communities – putting the patient first in everything we do. Allina Health provides a complete continuum of care – from disease prevention to innovative diagnostic and treatment services for complex medical conditions.
Allina Health is a not-for-profit organization that cares about improving the health of the communities we serve not only in medical settings, but wherever people live, learn and work.