Comprehensive Landscaping and Gardening Workshop with author Ginny Stibolt!
Description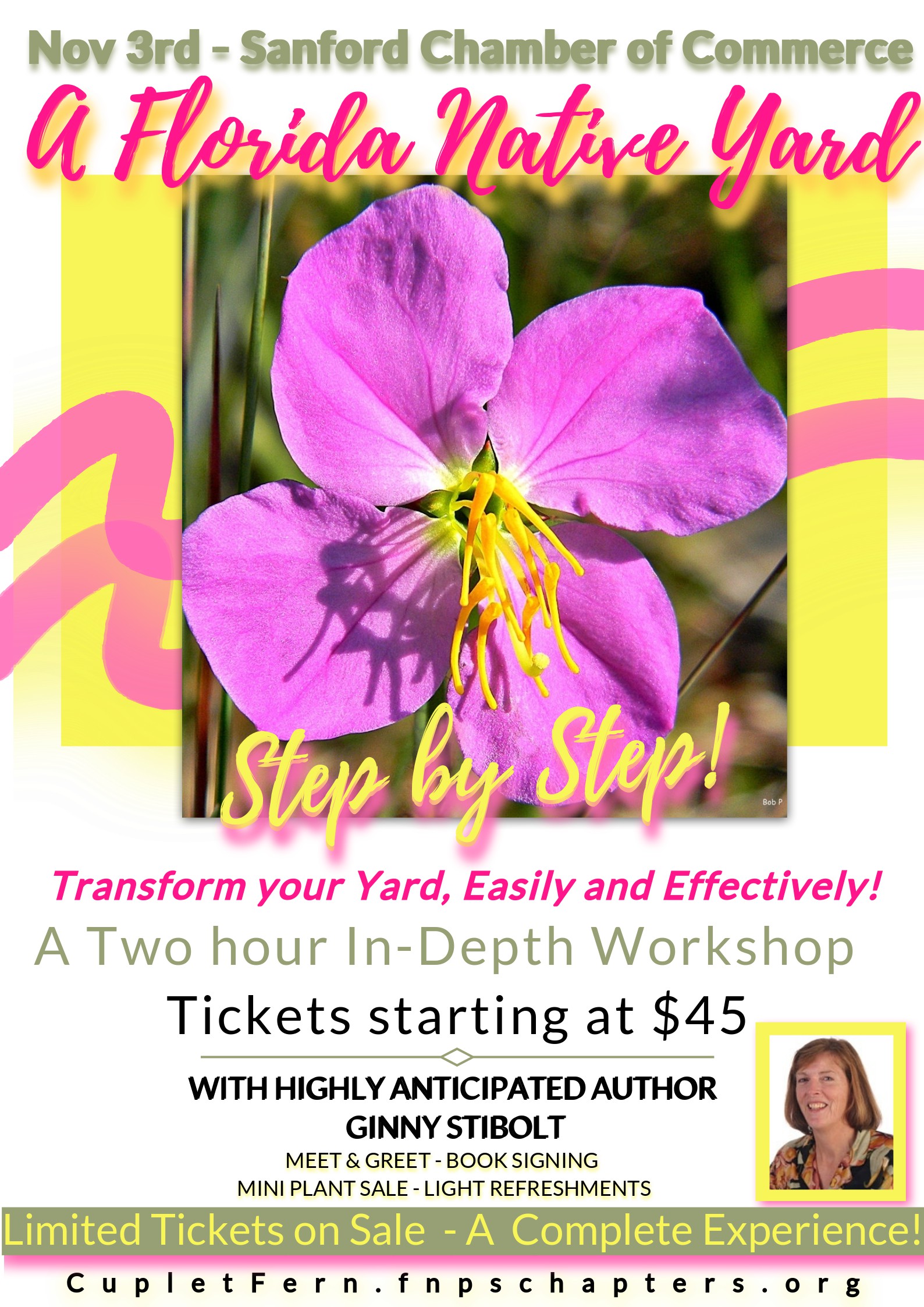 This is a full-service event. Simply buy your ticket, grab a bite to eat, and enjoy the learning experience!
---
A once-in-3-years opportunity with Ginny Stibolt for a comprehensive workshop on a step-by-step landscaping guide with easy to use and maintain Florida native plants.
Your inner gardener will thank you... This event also makes a perfect gift for a loved one who's into gardening!
If you've ever wondered, "I have mostly invasive exotic plants in my small Florida yard, so how do I get started with natives?" look no further- this is course will solve your problem.
An intimate workshop with renowned author Ginny Stibolt will help you transform your yard into a living, working ecosystem- supporting birds, pollinators, and your garden admirers.
---
COVERED:
90-minute presentation:
- Why natives
- Assessing a property
- Stormwater & shorelines
- Woody plants
- Herbaceous plants
- Wild areas
- Landscape poisons
- Human-use areas
- Dealing with HOAs & government organizations
BONUS:
40-minute hands-on workshop in creating plans for their landscapes &
ADDITIONAL BONUS:
20-minute tour of native plants for sale OR open Q & A on using natives in the landscape
TOTAL TIME:
Roughly 2.5 hrs!
---
FAQ's:
Cuplet Fern chapter of the Florida Native Plant Society is happy to host this event as a service to our community!
Your ticket goes towards a complete experience that includes:
Meet & Greet with Ginny
Complimentary light refreshments
A mini Plant Sale on site for your shopping convenience
A custom information packet to take home and learn more
All sales are final. No refunds. We do not facilitate ticket transfers but you are welcome to give us a head's up of ticket transfers by emailing us at cupletfern@gmail.com
Complimentary light refreshments are available to fuel your learning experience during the course. But you are more than welcome to pack your own snack as well if you have any allergies or special dietary needs..
The presenter, Ginny Stibolt, will also be selling and autographing books after the worshop concludes.
Discover more about our wonderful little chapter at http://cupletfern.fnpschapters.org. We serve all of Seminole County and we are here to conserve, preserve, and restore native plants in our community.
---
THIS JUST IN!
Ginny is also doing a give away for one her books- 'Climatewise' and 'Step by Step to a native yard' for two lucky attendants with tickets!
If we hit 35 tickets or more, our chapter will do something even more special for ticket buyers- we will sponsor every ticket holder a complimentary individual FNPS membership but we need to hit that number. Let's help get our tickets to that number so we can offer this amazing membership offer.... that will also make your net ticket sales just $10+tax!!