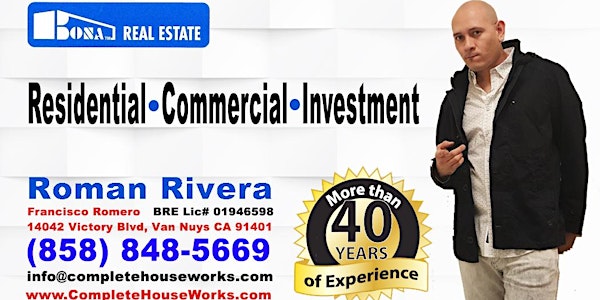 Compradores de Vivienda - Clase
Date and time
Monday, March 27 · 12 - 2pm PDT
Refund Policy
Contact the organizer to request a refund.
Description
10 MANDAMIENTOS PARA COMPRADORES DE VIVIENDA
¿Estás interesado en comprar una nueva casa?
Conoce los pasos básicos que debes considerar para empezar este proceso.
El proceso de comprar una nueva casa puede ser abrumador. En nuestra clase aprenderás cómo hacer este proceso más fácil. Te enseñaremos qué aspectos debes considerar antes de aventurarte y hacer esa compra.
En nuestra clase, te enseñaremos todos los detalles que necesitarás para tomar una buena decisión cuando compres tu casa y revisaremos contigo los pasos básicos y las reglas que debes asegurarte de seguir para obtener la casa de tus sueños.
En nuestra clase cubriremos 10 mandamientos que cada comprador de vivienda debe seguir:
Te mostraremos por qué es importante mantener tu trabajo.

Cómo la compra de un automóvil afecta tu disponibilidad para comprar una casa.

Cómo las tarjetas de crédito afectan tu compra.

Cómo ahorrar dinero para los gastos de cierre.

Cómo llenar la solicitud de deuda.

Por qué no comprar muebles antes o durante la compra de una casa

La razón por la cual no debes revisar tu crédito regularmente.

Razones para no hacer grandes depósitos en tu cuenta bancaria sin consultar con tu oficial de préstamos.

Por qué no debes cambiar tus cuentas bancarias.

Te explicaremos las circunstancias bajo las que no debes firmar como co-firmante.
Veremos las razones por las que al solicitar préstamos hipotecarios es importante presentar una imagen estable y responsable. Discutiremos por qué permanecer en tu trabajo actual y mantener tus cuentas bancarias puede ser la opción más inteligente.
Además, nos aseguraremos de que estés en el camino correcto con cualquier deuda anterior, te mostraremos cómo controlar de cerca cualquier gasto adicional, como un automóvil nuevo, muebles, viajes o cualquier otro que pueda representar un problema en tu presupuesto.
Te mostraremos por qué las acciones que pueden parecer inofensivas, como consultar tu calificación de crédito en algunos sitios por tu cuenta, pueden perjudicar tu calificación.
Toma esta clase y déjate asesorar por profesionales que te ayudarán a obtener la información que necesitas para revisar tus solicitudes de préstamo y asegurar que sean aceptadas.


¡Inscríbete en nuestra próxima clase!
About the organizer
Want more information on our lectures?  We are availbale by phone, text and video.  We are daily developing and growing businesses. Our aim is to provide the right tools and resources for you to start and grow your business.
We can be reach by making an appointment to come visit us in our office. We will be happy to meet you during business hours. Dont feel like driving to our classroom or if you cant make it to our classes at our office we also hold Webinars. Let us know if a Webinar would work best for you? 
You can always call from anywhere you happen to be. We are eager to answer your call. If were not able to answer leave a message and we will promptly return your call. Write us an email. We answer all correspondence no later than 48 hrs. after we receive it. Send us a letter to our mailing address. Will make sure to answer it quickly.
If you don't see what you're looking for or want to know more about us or our services don't be shy to contact us.
In most cases we can provide a solution for you or get you in contact with a professional that can assist you further.
We're looking forward to assisting your business.