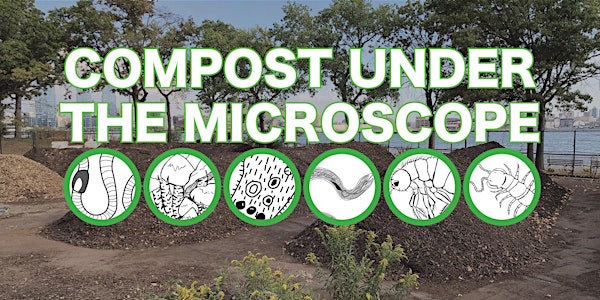 Compost Under the Microscope
Discover compost biology under the microscope with BioBus and the NYC Compost Project Hosted by LES Ecology Center.
When and where
Location
East River Park Compost Yard East River Park Compost Yard New York, NY 10002
About this event
See bacteria, fungi, and more as we explore our compost piles under the microscope and see what organisms live in different stages and temperatures.
Activities are on-going and can be enjoyed at your own pace from 12pm - 3pm. Activities include:
East River Park Compost Yard Tour: Tour one of Manhattan's largest composting facilities, the site takes in nearly 1 million pounds of organic waste each year with materials coming from local food scrap drop-off sites, wood shops, and chipped park waste. Tours run every half hour.
Stereo-Critters: Explore all the critters that live in compost! From springtails to millipedes, we will dive deep into NYC's biodiversity with community composters and scientists alike.
Mystery Compost Challenge: Different stages of compost have different living and non-living characteristics. Take a tour of the compost piles and, using digital microscopes and chemistry kits, hypothesize which sample corresponds to which compost pile!
Bacteria in Compost: Make compost solutions and use a compound microscope to study its bacterial activity!
Worms worms worms!: From worm anatomy to habitat preferences––learn about all things worms!