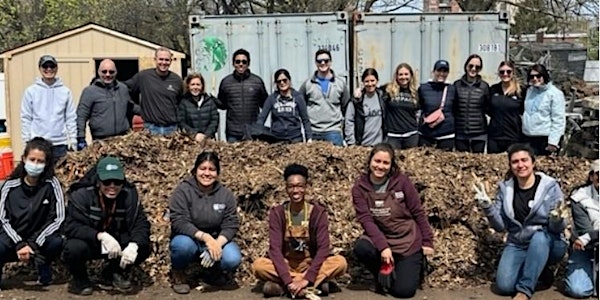 Multiple dates
Compost Build Community Volunteer Days 2023
Join the NYC Compost Project staff to help with on-site compost builds and learn how composted food scraps nourish the soil.
By Queens Botanical Garden
Date and time
January 30 · 9:30am - June 26 · 12:30pm EST
Location
Queens Botanical Garden 43-50 Main St Flushing, NY 11355
About this event
Join the NYC Compost Project staff on our epic compost build days! Volunteers will experience a large-scale compost operation and get firsthand experience building a compost windrow! We will combine over 4,000 lbs of Queens-generated food scraps with equal parts QBG horticulture waste. Volunteers can help by bringing their own food scraps to the build!
Volunteers will help empty bins of food scraps, remove contaminates, chop whole foods, and assist to maintain a clean space, all while having great conversations and a fun time.
This is an outdoor event, please dress for the weather, wear sunscreen, bring water or snacks, and dress comfortably. QBG staff will provide gloves.
FREE. Registration required.
Takes place on Mondays, 9:30am-12:30pm. 
Individuals welcome to register. All volunteers must register on Eventbrite. To arrange for a separate large, student, private, or corporate volunteer opportunity, please email volunteer@queensbotanical.org.
FREQUENTLY ASKED QUESTIONS
Is there an age requirement?
Participants must be 16 years of age or older. For the safety of everyone in our space, no one under 16 can be present during our volunteer compost build days. Groups of student volunteers may attend by contacting volunteer@queensbotanical.org.
Can I only come for one hour or part of the day?
Due to limited space, we encourage volunteers to stay for the entire time. If you need to leave early, please speak with the staff member you are working with so they can plan accordingly. Please let us know if you cannot attend a workday as soon as possible, and no later than 7 days before the workday, so someone else may take your spot. Volunteers who miss more than 2 scheduled shifts will have future registrations removed. 
Where do I go once I get to the garden? What time should I arrive?
QBG Compost volunteers should meet at #25 "Blue Compost Trailer" on the map located at both Garden entrances. Please allow 10 minutes to walk from the Main Gate to the Farm, or 5 minutes to walk from the Parking Garden. The Blue Compost Trailer is the first building on your left when you enter the Garden from the Parking Garden.
Do I need to know any skills ahead of time? How physical is the work?
We welcome all skill levels to participate--you do not need to know anything prior to coming. You will be trained in safety and skills for each session. We try to accommodate all levels of experience, however participants must be able to do physical work including bending over, heavy lifting 20+ pounds, performing diverse, sometimes repetitive tasks, and standing, walking, or squatting for long periods of time.
What are my transportation and parking options getting to the Garden?
Please park in our Parking Garden lot. You do not have to pay for parking or admission. Tell the attendant your name and that you are here to volunteer.
Parking is available year-round during Garden open hours at the Parking Garden, located at 42-80 Crommelin Street, Flushing, NY 11355.
By public transportation, take the number 7 subway line to Main Street, the Long Island Rail Road (Port Washington line) to Main Street/Flushing, or the Q44-SBS or Q20 bus.
For driving directions and more information: https://queensbotanical.org/directions
What should I bring?
Please wear weather appropriate clothing that you don't mind getting dirty--sun hats and sunscreen if it's hot or layers if it's cold, and don't forget sturdy close-toed shoes. We highly advise wearing waterproof shoes. Bring a water bottle and snack if you'd like. We have gardening gloves and water available for anyone who does not bring their own. 
What happens if the weather is bad?
We work outside rain or shine. In very inclement weather, you will be notified of a cancelled or rescheduled volunteer date. 
KNOW BEFORE YOU GO
HEALTH & SAFETY
To prevent the spread of COVID-19 and for the health and safety of all visitors, follow our current health & safety guidelines, found on our website: https://queensbotanical.org/know-before-you-go
Restrooms are accessible by the ramp next to the Visitor & Administration Building. Please follow on-site instructions on how to enter restrooms.
CANCELLATIONS
In the case that an event is cancelled, you will be notified via email.
COMMUNICATIONS
By purchasing tickets and attending QBG events, you hereby opt in to receiving communications from the Garden. You may receive updates about future QBG events and news through the addresses you provide. If you do not wish to receive future communication, simply click the "unsubscribe" button at the bottom of an email or write to info@queensbotanical.org.
GARDEN ETIQUETTE
QBG staff strives to provide a place of peace, beauty, and safety for the quiet enjoyment of our visitors. QBG is a living museum, a collection of gardens for the study, culture, exhibition, and display of plants. We encourage our visitors to explore, enjoy, and be respectful of our plant collections and to be considerate of fellow guests as well. For more guidelines on garden etiquette: https://queensbotanical.org/know-before-you-go/
PHOTOGRAPHY & VIDEOGRAPHY
Queens Botanical Garden (QBG) occasionally photographs or films visitors and activities on site to support our mission in promotional media and materials, including print, online, broadcast, and social media. By attending this event, you grant permission to QBG use your likeness in perpetuity, in all forms of print and digital media used to promote, publicize, or advertise the Garden, its activities, and programs. If you do not give QBG permission to take and use your image, you must notify an event organizer or staff when you arrive for this event. QBG is a 501(c)(3) non-profit organization.
ABOUT QBG
QBG is an urban oasis where people, plants and cultures are celebrated through inspiring gardens, innovative educational programs and real-world applications of environmental stewardship. QBG is located on property owned by the City of New York, and its operation is made possible in part by public funds provided through the New York City Department of Cultural Affairs, Queens Borough President, the New York City Council, State elected officials, the New York State Department of Parks, Recreation and Historic Preservation, along with corporate, foundation, and individual supporters. For more information, visit www.queensbotanical.org or call (718) 886-3800.
About the organizer
Queens Botanical Garden (QBG) is an urban oasis where people, plants, and cultures are celebrated through inspiring gardens, innovative educational programs, and real-world applications of environmental stewardship.