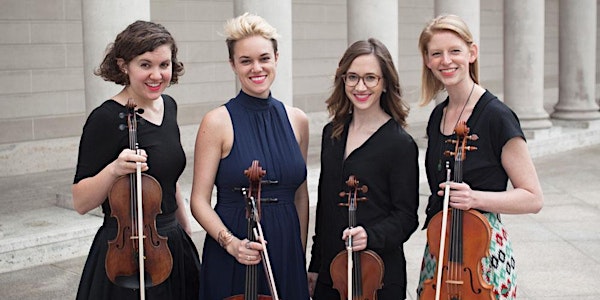 Composite Identities: The Music of Schulhoff, Frank, and Bartok
When and where
Location
Maybeck Studio for the Performing Arts 1537 Euclid Avenue Berkeley, CA 94708
Description
NOTE: THIS CONCERT IS NOT FREE. Eventbrite allows you to make a "free reservation" to ensure that you get a seat and we do not over-fill the room. ADMISSION IS PAID AT THE DOOR. Thank you and we look forward to seeing you!
This evening's program explores the idea of cultural identities in the music of Erwin Schulhoff, Gabriela Lena Frank, and Bela Bartok. Each of these composers are, to varying extents, musical anthropologists. Frank and Bartok's music often incorporates folk and native music styles into a western classical structure, whereas Schulhoff integrates elements of modernism, neoclassicism, jazz, and dance from a number of sources and cultures.
Amaranth Quartet at the Maybeck
Sunday October 23, 2016 at 3:00pm
This concert is $20 General Admission/$15 Students
Seating is limited. Get your required online reservation here.
Read more at www.maybeckstudio.org.