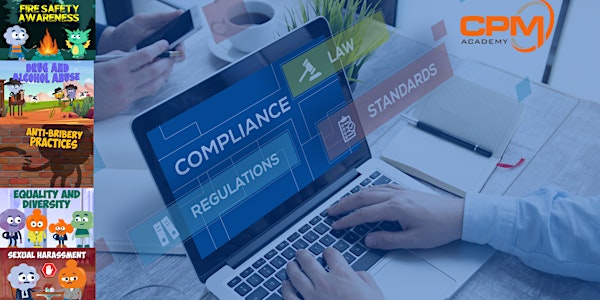 Compliance Essentials - Bundle of 5 Courses
Online Course. Study at your own pace. Bundle of 5 Courses.
About this event
365 days 8 hours

Mobile eTicket
CPM Academy and TalentLMS bring 100% Online Courses for your professional development. Receive a Certificate of Completion from CPM Academy after each course.
This Bundle includes the following 5 Courses:
Equality and Diversity
We all deserve to work in an environment free from discrimination, harassment, victimization, and bullying, but all businesses aren't made equal. In order for teams to successfully work together, effective equality and diversity management in the workplace must not only be applied, but valued.
Beyond this, it has many benefits: from expanding your talent pool, to helping drive innovation and development, and even improving your brand reputation.
By the end of this course, you'll be able to:
Explain what is meant by equality and diversity
Recognize the benefits equality and diversity can bring
Identify ways to promote equality and diversity in the workplace
Sexual Harassment
Employers are responsible for ensuring that employees never have to face harassment in their workplace. They have a legal obligation to take reasonable steps to protect their employees and keep them safe. And if they fail to do so, they're legally liable.
By the end of this course, you'll be able to:
Identify what is meant by sexual harassment
Recognize the various categories when dealing with harassment
Demonstrate how to prepare for and respond effectively to incidents of harassment
Fire Safety Awareness
Everyone can be at risk in the event of a fire. But, with proper training, employees can eliminate fire hazards and respond quickly and efficiently if a fire ever does break out in a place of work.
By the end of this course, you'll be able to:
Recognize fire hazards
Identify ways to prevent fire in the workplace
Demonstrate how to respond in the event of a fire
Drug and Alcohol Abuse
Drug and alcohol abuse by employees is a serious issue, and one that can cause many problems for both the individual and the business itself. From emotional turmoil, to lost productivity, it can also result in injuries and an increase in health insurance claims.
By developing a clear policy and providing the right level of support, workplaces can prevent problems from ever escalating.
By the end of this course, you'll be able to:
Define what is meant by drug and alcohol misuse in the workplace
Recognize the signs of drug and alcohol misuse, and what to look out for
Implement techniques for managing drug and alcohol misuse at work
Anti-Bribery Practices
In actuality, anti-bribery compliance makes up an important part of a company's protocol. But to avoid liability, companies worldwide must implement adequate measures.
By the end of this course, you'll be able to:
Define what is meant by bribery, including who can be responsible
Recognize how to spot the signs that bribery might be taking place
Demonstrate ways to reduce the risk of bribery and corruption in the workplace