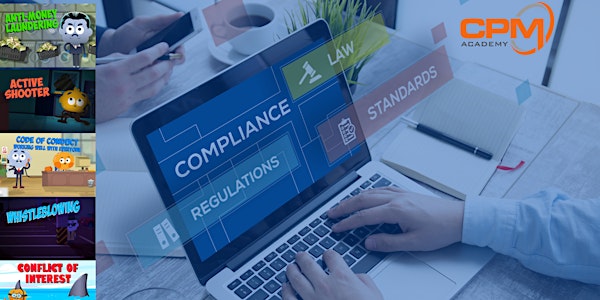 Compliance Essentials 2 - Bundle of 5 Courses
Online Course. Study at your own pace. Bundle of 5 Courses.
About this event
365 days 8 hours

Mobile eTicket
CPM Academy and TalentLMS bring 100% Online Courses for your professional development. Receive a Certificate of Completion from CPM Academy after each course.
This Bundle includes the following 5 Courses:
Anti-Money Laundering
The specifics vary by jurisdiction but there are steps that all organizations can take. Written policies and training give you a head start. Developing a culture of AML compliance helps, too. This produces a risk-averse environment which greatly reduces exposure to the dangers.
By the end of this course, you'll be able to:
Identify the risks of money laundering
Highlight key components of an AML program
Outline strategies and practices to implement AML
Active Shooter
If the unthinkable does happen, and your organization finds itself involved in an active-shooter incident, having a plan in place is a key element in reducing risk and harm. There are a few simple strategies you can implement that will help you be prepared.
By the end of this course, you'll be able to:
Identify an active-shooter incident
Outline the key steps of an active-shooter response strategy
Prepare a planned response to a potential incident
Prevent active shooter incidents
Code of Conduct - Working Well with Everyone
A simple, well-written code of conduct helps everyone understand company values, and the ways people should work together. It doesn't need to be complex, it just puts everyone on the same page. But it has valuable benefits. For employees it eliminates uncertainty and mistakes; for a company it guards against the risk of misconduct.
By the end of this course, you'll be able to:
Explain the benefits of a code of conduct
Outline what can go wrong in the absence of a code
Utilize hints and tips for drafting an effective code
Whistleblowing
To blow the whistle on a company is a big step and comes with a lot of pitfalls. Some things justify whistleblowing, others are more suited to internal resolution. There are certain disclosures that are protected by the law, others that are not. It can be an intimidating process, even when an employee is trying to do the right thing.
By the end of this course, you'll be able to:
Define whistleblowing and who can be protected when they do it
Recount reasons someone might blow the whistle
Outline common steps in the whistleblowing process
Conflict of Interest
Creating an environment that's open about its definition of conflicts of interest and being clear about how to manage them when they arise, will help reduce the risks. The safest approach is to have a process in place to handle conflicts of interest, which will allow everyone to work together more securely.
By the end of this course, you'll be able to:
Explain the risks involved in a conflict of interest
Describe a process to put in place
Implement best practices for managing a conflict