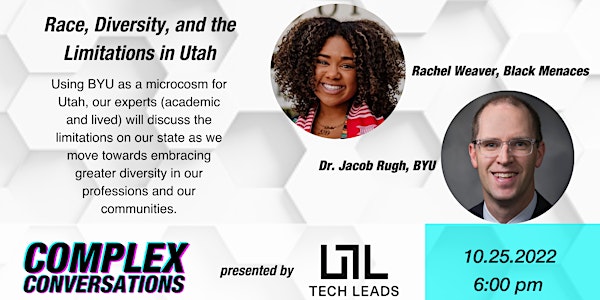 Complex Conversations: Race, Diversity and the Limitations in Utah
Utah has its limits. Rationally, we know that. But what does that mean for our companies and our communities looking to increase diversity?
When and where
Location
The Shop Salt Lake City 350 East 400 South Salt Lake City, UT 84111
About this event
Using BYU as a microcosm for Utah, our experts (academic and lived) will discuss the limitations on our state as we move towards embracing greater diversity in our professions and our communities.
Have a question you would prefer to ask anonymously? Click here!
Rachel Weaver was born and raised on the south side of Chicago and received a bachelors degree in sociology from Brigham Young University. During her time at BYU Rachel served as the executive vice president of the Black Student Union, interned with the director for student success & inclusion, and volunteered with the diversity, collaboration, and inclusion committee within the college of Family, Home, and Social Sciences. Rachel recently started a new position as a talent engagement and inclusion associate at Momentum Worldwide, the 2022 experience advertising agency of the year. She's also a member of Delta Sigma Theta Sorority Incorporated, which focuses on a public services within the Black community.
Jacob S. Rugh is an Associate Professor of sociology at Brigham Young University, where he joined the faculty in 2012. Dr. Rugh received a dual Master's degree in Public Affairs & Urban and Regional Planning and a Ph.D. in Public Affairs from Princeton University.
Dr. Rugh's research focuses on race, immigration, and home ownership, with an emphasis on housing segregation and discrimination in mortgage lending. His work has been featured in The Atlantic and The New York Times. He has been a statistical expert in ten fair lending housing discrimination civil rights cases and his work has been cited in US Supreme Court briefs and recent federal cases concerning immigrant deportations. He is the winner of the Law & Society Association's John Hope Franklin Prize for the best article on racism and the law.
PARKING: Parking around the shop is extremely limited. There are spots around the safety building and library square for parking.
TRAX/UTA: We are just East of the Library Station stop.
Cycling: There is a bike garage just inside the building should you ride in. One of our volunteers will be monitoring the door and can give you access to that space to safely secure your bike.