Complete Streets Workshop
Description

Everyone is invited to attend the beginning portion of this workshop. From 9:00am – 10:30am, there will be a special focus, designed to educate decision makers and those involved with the development community.
Attendees will learn how to foster community engagement and determine which guidelines/policies to update to ensure a solid platform exists for implementing Complete Streets design. Participants will walk away with an understanding of the steps needed to ensure accountability in implementation, and the importance of instituting an advisory committee to oversee these efforts.
Practitioners and designers are invited to attend the remainder of the workshop. Participants will walk through local transportation planning and project review processes. Barriers to implementation will also be discussed, and participants will be taught useful strategies they can utilize to collaborate with private developers and community organizations. The workshop will conclude with the economic and safety benefits of Complete Streets, as well as potential sources of funding for Complete Streets projects.

Workshop Agenda
Facilitators: Emiko Atherton, Director, National Complete Streets Coalition, Smart Growth America
Mike Rutkowski, P.E., AICP, National Complete Streets Coalition Steering Committee Member
8:45 AM - Registration
9:00 AM –

Welcome and Santa Clara County's Vision for Complete Streets
9:10 AM - Why Complete Streets
▪ Rethinking the role of the streets
▪ Why Complete Streets projects, retrofits, and right-sizing are important
9:40 AM -

Return on Investment (ROI) of Complete Streets
▪ Private and public investments/economic development
▪ Benefits for development
10:00 AM -

Break – Transition/Preparation for Practitioners Work Session
10:30 AM - Implementing Complete Streets
▪ Creating a plan and accountabily in implementation efforts
✓ Instituting an advisory committe
✓ Revising guidance, standards, manuals, policies, and other documents
✓ Updating decision making processes
✓ Modifying approaches for measuring performance
✓ Adopting and using best practice design guidance
✓ Offering education and training opportunities to staff, residents, and officials
✓ How to foster appropriate community engagement and build trust
11:45 AM - Lunch *Provided*
12:15 PM -

Creating Room for Complete Streets, the Process
▪ Implementation of design guidelines — addressing barriers/retrofits/old infrastructure
▪ Walking through the process and decision points
▪ Safety, convenience, choices — Street classification
▪ Design elements
▪ Safety - Crime Prevention Through Environmental Design
▪ Principles for creating safe crossings
▪ Case studies and applications
1:30 PM -

Funding Options & Public Outreach
▪ Grants, sources, programs, and applications
▪ Working with the private development community and garnering public consent
2:00 PM -

Inclusive Project Development/Review Process
▪ Embracing Complete Streets in the planning process
▪ Project scoping, checklists
▪ Burden of proof; assuming all needs must be accommodated
▪ Reviewing a local city's project review process
▪ From policy to design — Implementation guidelines
2:45 PM - Discussion: Next Steps
3:00 PM - Adjourn

---
Directions to Valley Transportation Authority Campus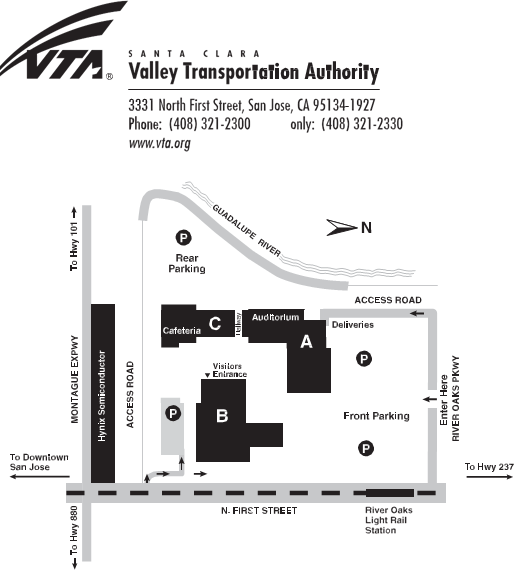 Transit Directions
On Light Rail: Exit River Oaks Station. We are located on the southwest corner of First St. and River Oaks Pkwy. For more information regarding public transportation, visit www.vta.org or www.511.org
Bike Racks
Bike racks are located throughout the campus.
Parking
Visitor parking is available.
Driving Driving Directions
From North, take Highway 101 S
From South, take Highway 101 N
Exit Montague Expwy. East
Left on North First St.
U-turn at River Oaks
Turn right into VTA's campus
Immediate right turn then left turn to access Visitor Parking