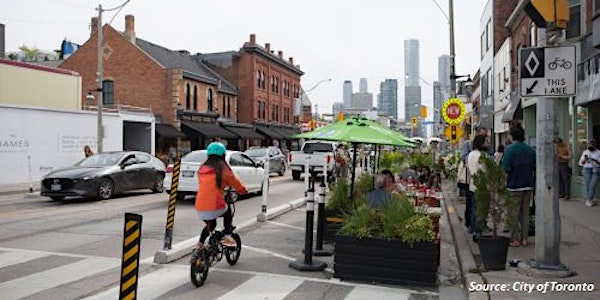 Complete Streets For Climate, Health and Community Benefits
A walking tour of the Midtown Yonge Complete Street with Ward 12 Neighbourhood Climate Action Champion Alec Khachatryan
When and where
Location
Yorkminster Park 1585 Yonge Street Toronto, ON M4T 1Z9 Canada
About this event
In this one hour stroll down Yonge Street, you'll learn about complete streets and how they are crucial in the fight against climate change, improving physical and mental health and building stronger communities by encouraging more active and sustainable modes of transportation in our urban centres.
If you have time, we'll end our walk at one of the nearby streetside cafes for socializing and further discussion.
When: Sunday September 18th starting at 2 pm Rain or Shine
Meet at: Yorkminster Park (Yonge St. east side north of Heath, northeast of the Yorkminster Park Baptist Church. Nearest subway stop is Line 1 St. Clair)
End at: Ramsden Park (Yonge St. west side, opposite the Rosedale Subway station)
WHAT ARE COMPLETE STREETS?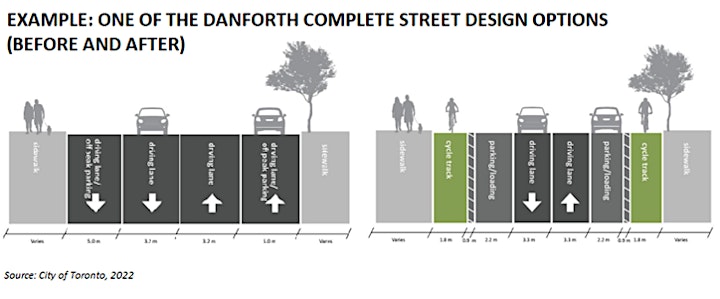 After decades of car-oriented street planning, Canadian municipalities are increasingly adopting Complete Streets policies. Complete Streets are "designed to be safe for all users: people who walk, bicycle, take transit or drive, and people of varying ages and levels of ability" (City of Toronto, 2017).
How our streets are designed affects our city's greenhouse gas (GHG) emissions. In Toronto, transportation is the second largest source of emissions, behind the energy use of buildings. In 2019, transportation emissions accounted for 36% of the city's inventory, and most (73%) were attributed to passenger cars and trucks. To meet its 2030 GHG emission reduction targets, Toronto must nearly halve its 2019 emissions within 10 years.
The TransformTO Net Zero Strategy includes as 2030 transportation targets that 75% of school and work trips under 5 km will be achieved through walking, biking or public transit, and 30% of registered vehicles in Toronto are electric vehicles.
These goals reflect the fact that each of us can do something to help reach our city's goals: increase our use of low carbon transportation options, which includes walking, biking, and public transit. Increasing use of active and public transportation also aligns with the Complete Streets concept.
Toronto's Official Plan says streets have a role in supporting the "development of sustainable, economically vibrant and complete communities." In 2017 our city adopted Complete Streets Guidelines through a collaborative effort from government, community groups and others.
According to the guidelines, complete streets should provide health, economic and environmental benefits. There is no cookie-cutter approach to complete street design, but in general they should balance the needs of different users, encouraging people to walk, cycle and take transit in a safer way, creating more beautiful streets with opportunities for socialization and public gatherings, and improving the city's resilience to the effects of climate change.
Complete streets aid in climate mitigation with features like:
Safety for people walking and biking:
Pedestrians are the most vulnerable users and their safety is prioritized.
Cyclists are vulnerable too so their safety is also a priority.
Public transit is prioritized because it takes up less space per passenger than personal vehicles and as such can help relieve congestion and reduce greenhouse gas emissions.
Trees, parks and stormwater management systems have environmental benefits.
YONGE ST. PILOT
While other major streets in Toronto such as Danforth Ave. and College St. also have complete street features, Yonge St. is particularly important because it is our city's largest North-South corridor with complete street elements. Encouraging more active transportation here can have a big impact on climate action.
Approval of Pilot in April 2021
In April 2021, the City of Toronto approved the Complete Streets Pilot located on Yonge St. between Bloor Street and Davisville Avenue (3.2 km). The pilot included ActiveTO and CaféTO features such as protected bike lanes, safety and accessibility improvements, street art, planters and patios.
The pilot responded to demands for CaféTO installations, addressed the need to improve cyclist and pedestrian safety and reduce collisions, and improved cycling network connections based on our city's Cycling Network Plan.
Expected results included a safer, more inviting street for all users, improved public transit options, improved pedestrian and cycling infrastructure, and benefits to local businesses. In 2022, the pilot was extended.
June 2022 study of Pilot's early results
A June 2022 study of the Midtown Yonge Complete Street pilot's early results found a significant increase in pedestrian and cycling activity (by 68-126% and 35%-193%, respectively), and only a modest (up to 90 seconds) increase in average vehicle travel time. More people walking and biking means more people pursuing low carbon modes of transportation, which helps Toronto reach its climate action goals.
City Council votes in January 2023 on future of Pilot
City Council will vote on whether to make the Midtown Yonge Complete Street pilot permanent in January 2023.
SOURCES
City of Toronto. (2017). Toronto Complete Streets Guidelines Edition 1. Volume 1. https://www.toronto.ca/services-payments/streets-parking-transportation/enhancing-our-streets-and-public-realm/complete-streets/complete-streets-guidelines/
City of Toronto. (2019). Greenhouse Gas Emissions Inventory. https://www.toronto.ca/services-payments/water-environment/environmentally-friendly-city-initiatives/transformto/torontos-greenhouse-gas-inventory/
City of Toronto. (November 2021). TransformTO Net Zero Strategy: A climate action pathway to 2030 and beyond. https://www.toronto.ca/legdocs/mmis/2021/ie/bgrd/backgroundfile-173758.pdf
City of Toronto. (2022). The Danforth Study. Complete Streets Study Summary Report. https://www.toronto.ca/wp-content/uploads/2022/02/8d46-CityPlanning-DanforthAvenue-Complete-Streets-Summary.pdf
City of Toronto. (June 2022). ActiveTO Midtown Complete Street Pilot. https://www.toronto.ca/wp-content/uploads/2022/08/8ffd-TSATM-DashboardJune-2022.pdf
City of Toronto. (n.d.). ActiveTO Midtown Complete Street Pilot. https://www.toronto.ca/community-people/get-involved/public-consultations/infrastructure-projects/activeto-midtown-complete-street-pilot-project/
The Centre for Active Transportation. (October 2020). The Growing Evidence Base for Complete Streets. https://www.completestreetsforcanada.ca/resources/academic-literature-review-october-2020