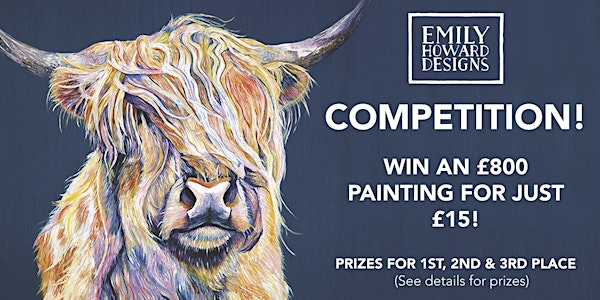 COMPETITION - WIN AN EMILY HOWARD DESIGNS ORIGINAL PAINTING WORTH £800
1 ticket = 10 entries Here is your chance to WIN an original Emily Howard Designs painting for only £15! Great prizes up to fourth place!
About this event
FIRST PRIZE :
Commission me a painting worth £800! (Commission a large painting of any animal you desire, from highland cows to elephants.. or get your pet painted!)
SECOND AND THIRD PRIZE :
A 20x20cm pet portrait worth £130 (or any animal of your choice)
OR
£100 off a larger commission.
Fourth prize:
A mounted "Marvin the Merino sheep" print
1 ticket = 10 entries
Competiton closes at the end of November- DON'T MISS OUT - GET ENTERING NOW!
PLEASE NOTE: This is a competition to win a painting of an ANIMAL. I wont be taking commissions of anything else.