Description
COMPETING MOTIVATIONS:
THE DIFFERENCE BETWEEN WANTING IT ALL AND HAVING IT ALL
presented by
POWERED by EMOTION
*** Limited Early Bird Tickets Available ***
Program Overview
Join us for our workshop Competing Motivations: the difference between wanting it all and having it all. This two-day training program is built on Powered by Emotion's simple three-step system. The program will put you in the driver's seat of your Emotion Brain by teaching you the skills to chart a course for change based on your own motivations. Each step is taught as a module which together form a NET of skills that show you how to Navigate Emotion, Enhance Motivation and Transform.
Step 1: Navigate Emotion
We've often been taught to avoid, manage, and even fear our emotions. But science tells us that our emotions are often the most effective guidance system for our decisions. By understanding how to use this system, you can better navigate your interpersonal challenges and become fluent in your Emotion Brain.
Step 2: Enhance Motivation
Instead of trying to "motivate you," we will explore what you are motivated to do. We will take a deep dive into your competing motivations and guide you through practical exercises to help you better understand what can drive your actions. Develop a deeper understanding of the relationship between emotion and motivation as well as how that emotion can empower your motivation.
Step 3: Transform
Put your newfound skills of emotion literacy and understanding your competing motivations to the test, as you embark on discovering your willingness to change and challenge your old ways. Participate in a series of activities to help break old patterns and begin to put your newfound knowledge into practice.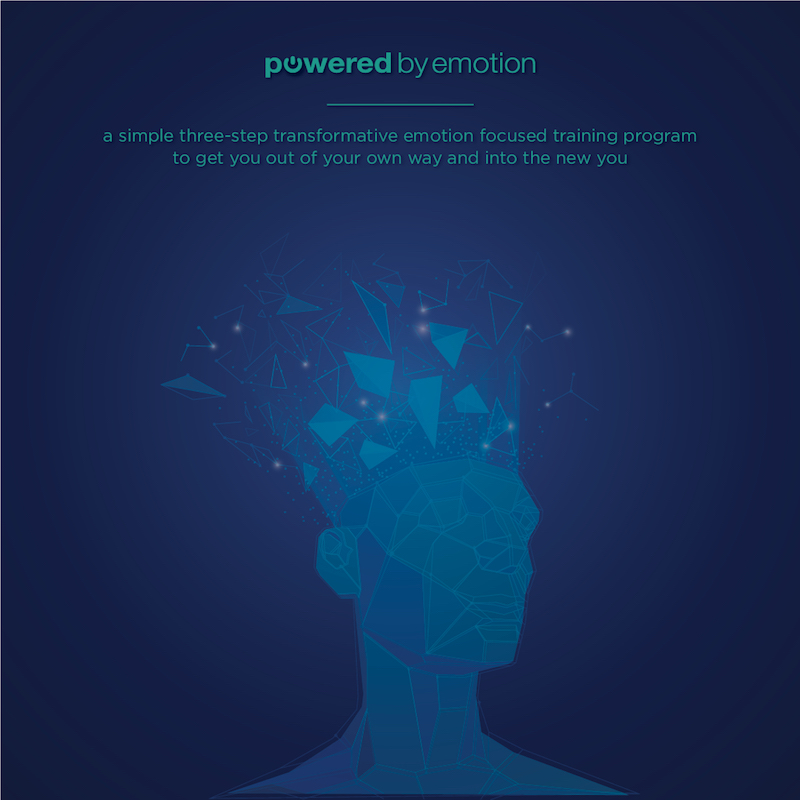 The Emotion Revolution Is Here
Founded on a wealth of theory and research that has its roots in Humanistic Psychology, Emotion-Focused Therapy and Emotion-Focused Skills Training, the Powered by Emotion training program makes this groundbreaking information accessible to everyone in a simple and digestible manner through our series of workshops.
Using knowledge sharing and practical activities the program establishes specific and clear concrete steps to help create transformative change. Every aspect of the program guides you to discover and utilize, rather than criticize and alter, the essence of your self.
By learning to navigate your feelings, no matter how painful they may be, you can learn to reorient your challenges and transform your self. Don't know why you aren't where you want to be? Your emotions are trying to tell you why. Tune in. Learn to speak Emotion.
This Is Not For The Faint Of Heart
When you engage in the program's process, you will want to turn back. You will stop in your tracks, and tell yourself that change is overrated. That things are okay the way they are.
But, that is the unique quality of the program — it is built on the assumption that you will be hesitant to unleash the power of your emotions to inspire transformative change, to understand that painful feelings guide you to where the problem is, and to accept that emotion fluency is the currency of success.
What Are The Outcomes
Powered by Emotion doesn't just talk about emotion and its relationship with motivation. Rather, it guides you to experience it. The program will put you in the driver's seat of your Emotion Brain by teaching you the skills to chart a course for change based on your own motivations.
Learn how to use this knowledge in your daily life to become the change you envision. Befriend the critical voices in your head instead of being beaten down by them. You take success with you everywhere, from your professional life to your personal, when you have the wisdom of understanding emotion.
---



Based on the life's work of Dr. Joanne Dolhanty, PhD
Powered By Emotion was created in response to an overwhelming demand to bring Dr. Joanne Dolhanty's approach to psychotherapy and family healing out of the mental health world and into the lives of everyday people, organizations and businesses.
It is based on theory and research in Humanistic Psychology as well as the psychotherapy model Emotion Focused Therapy which was founded by Dr Leslie Greenberg, PhD.
Drawing on her extensive background working with motivation and emotion, as well as with facilitating change through psychotherapy. Joanne guides participants through a simple and effective three-step system for getting motivated to make change.
Dr. Joanne Dolhanty, PhD, is a clinical and consulting psychologist. She has conducted hundreds of workshops and trainings for organizations, professionals, families and individuals globally.

---


Two-Day Workshop
Sat Mar 9th 2019
Sun Mar 10th 2019
10:00 AM to 4:30 PM
Workshop Location
708 Annette Street Unit 2
Toronto ON M6S 2E2
(Runnymede Rd. & Annette St.)