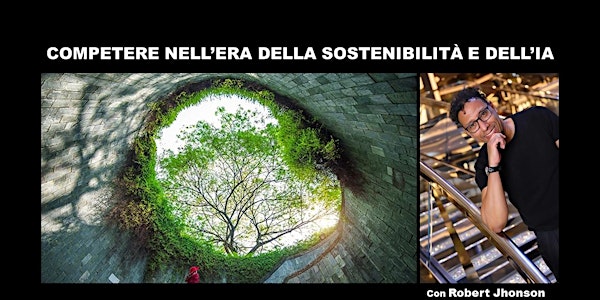 Competere nell'era della sostenibilità e dell'IA
Il mentore di Bill Gates fornisce le risposte per competere nell'era della sostenibilità e dell'IA
When and where
Location
Ferrara Remtech presso Fiera di Ferrara Via della Fiera, 11 44124 Ferrara Italy
About this event
- Robert Jhonson ha previsto l'arrivo della crisi economica del 2008 già nel 1999 e lo ha comunicato pubblicamente durante la conferenza "Benvenuta crisi" organizzata da Confindustria Udine.
- Robert Jhonson ha previsto l'arrivo della pandemia nel maggio 2019 e lo ha comunicato alla conferenza "il bello della crisi" organizzata da confcommercio a Schio.
- Robert Jhonson ha previsto l'arrivo della guerra nel novembre 2014 (Russia con l'avallo della Cina) e lo ha ribadito in Ferrero nel maggio 2019. Qui è un breve estratto di quello che aveva detto nel maggio 2019
Le aziende riconoscono sempre più la necessità di rispondere alle pressioni globali come pandemie, cambiamenti climatici, scarsità di risorse e intelligenza artificiale in evoluzione. Competere nell'era della sostenibilità e dell'IA è una conferenza creata per colmare una lacuna nella preparazione di manager e imprenditori, per aiutarli nell'che il nuovo mondo ci pone. Durante l'incontro verranno descritte le sfide che le aziende devono affrontare a breve e lungo termine e quali strategie adottare per distinguersi in un mondo che cambia. Nello specifico, Robert Jhonson risponderà alle seguenti domande:
• Mentre molti stanno soffrendo l'attuale crisi, molti altri stanno facendo affari d'oro. Perchè? Come è possibile?
• Cosa ci riserva il futuro prossimo e come prepararci? Come competere nell'era dell'intelligenza artificiale e della sostenibilità?
• Sostenibilità: opportunità o minaccia per le aziende?
• Come introdurre e misurare la sostenibilità della tua attività?
• Come attrarre capitali importanti per distinguersi e sopravvivere alle turbolenze dei tempi futuri?
• Il ruolo dell'IA e come implementarla nel tuo business?
• Qual è la struttura di un business vincente a prova di futuro?
Profilo dell'altoparlanteRobert Jhonson, speaker internazionale, è stato consulente per alcune delle aziende e industrie più conosciute al mondo: Ikea, Google, Toyota e Virgin. È stato consulente di importanti personalità e imprenditori, tra cui: Bill Clinton, Bill Gates, Michael Jordan. Tutta la sua carriera è improntata dall'eccellenza e basata su standard elevatissimi: PhD in Scienze Biologiche e oncologia presso l'Università del Quebec a Montreal (Canada), un MBA presso la Harvard Business School, due Master in Psicologia del Cambiamento, ricercatore presso il National Bureau di Economic Research, UNEP Champion of the Earth, sociologo e imprenditore, Oscar della salute nel 2018 negli USA e nel 2019 in Italia.