Competencies for Counseling the Multiracial Population: Then, Now, & Beyond
Event Information
Refund Policy
Contact the organizer to request a refund.
Eventbrite's fee is nonrefundable.
We will hear from the authors of the Multiracial Competencies on its history and ensuing impact and utilization in the Counseling Community
About this Event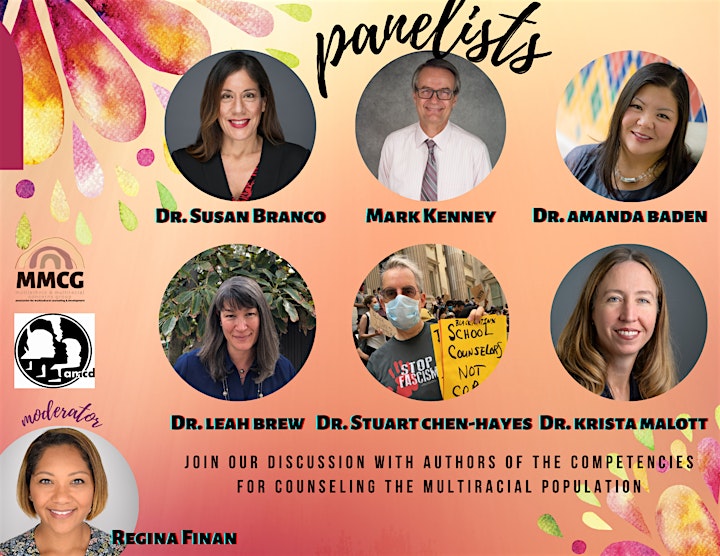 Session Description:
The Competencies for Counseling the Multiracial Population (2015), endorsed and adopted by the American Counseling Association Governing Council in March 2015, were created to continue efforts initiated by the Multiracial/Multiethnic Counseling Concerns Interest Network (MRECC) in awareness, knowledge, and skills related to work with this population. During this session we will hear from the authors of the competencies on its history and ensuing impact and utilization. We will engage in a discussion about salient issues related to multiethnic, multiracial, and transracial adoptee individuals and communities, with an intentional focus on the current sociopolitical context and next steps related to advocacy, leadership, research, counseling, and counselor education.
Learning Objectives:
Attendees will learn about the history of the Competencies for Counseling the Multiracial Population
Attendees will learn about the impact and utilization of the competencies within advocacy, leadership, research, counseling, and counselor education
Attendees will learn about, conceptualize, and contextualize multiethnic, multiracial, and transracial adoptee issues within advocacy, leadership, research, counseling, and counselor education
Presenters:
Panelist 1 Bio:
Dr. Leah Brew (she/her) is Professor and Chair in the Department of Counseling at California State University, Fullerton. She has been teaching for over twenty years. She has regional, national and international publications, presentations and service activities related to a variety of diversity issues including biracial identity and interracial relationships. She also teaches the Counseling & Culture course regularly, which helps her to stay abreast of current developments in the field. Personally, she is a biracial Japanese-American cisgender woman, married to a Colombian cisgender man, and is also raising a multiracial child (racially: Latinx, Black, Asian, and White). Consequently, she is very interested in understanding these populations and their experiences.
Panelist 2 Bio:
Dr. Stuart Chen-Hayes (he/him/his) is Professor and Program Coordinator, Counselor Education/School Counseling at CUNY Lehman College, Bronx, NY and the author/co-author of 3 books including 2 on his mixed-race family: Double Dads One Teen (DIO Press Inc, 2019) and Double Dads (2021, YuanLiou, in press). A former co-founder and president of Counselors for Social Justice, his scholarship, leadership, and advocacy is focused on sexuality counseling, school counseling, consultation, and anti-oppression work in school and rank-and-file union settings. Twitter: @schenhayes
Panelist 3 Bio:
Dr. Krista M. Malott (she, her, hers) is an Associate Professor in the Department of Education and Counseling at Villanova University. She is a past president of the Pennsylvania Association for Counselor Educators and Supervisors, the Pennsylvania Association for Multicultural Counseling and Development, and current president elect of the North Atlantic Region Association for Counselor Education and Supervision. She began her career as a bilingual (Spanish-English) counselor, working in various clinical roles, including school, career, domestic violence, and drug and alcohol counseling. Contributor to over 50 publications, including a book entitled, Group Activities for Latino/a Youth, her core teaching and research areas address antiracist Whiteness and counselor education practices that effect greater justice and equity. Personally, she is part of a transracially adoptive family, with children who are African American. As a current co-facilitator of a grassroots racial justice community organization, she is a White citizen committed to lifelong learning in effecting greater societal social justice.
Panelist 4 Bio:
Amanda L. Baden, Ph.D. is a transracial adoptee, adopted internationally from Hong Kong. She believes in examining issues of race, privilege, oppression, and power in adoption to promote ethical and sensitive practice with transracial adoptees and their families. Dr. Baden is a full Professor in the graduate Counseling Program at Montclair State University and a licensed psychologist with a practice in New York City. She focuses her research and clinical practice on the adoption kinship network, transracial/international adoption issues, racial and cultural identity, and multicultural counseling competence. Dr. Baden was an editor of The Handbook of Adoption: Implications for Researchers, Practitioners, and Families. Dr. Baden serves on the Board on the New York State Board of Psychology, the Advisory Board for the Rudd Adoption Research Program (UMass-Amherst), the Board of Creating a Family, as Senior Fellow for the National Center on Adoption and Permanency, as chair of the Adoption Initiative Biennial Conferences held in NYC, and as a Senior Fellow for the former Donaldson Adoption Institute. Dr. Baden was awarded the John D. Black Award in 2014 from the American Psychological Association and Division 17 for the Outstanding Practice of Counseling Psychology, Outstanding Graduate Advisor for Montclair State University in 2017, and Angel in Adoption in 2005.
Panelist 5 Bio:
Mark E. Kenney M.Ed., NCC, LPC received his master's in counseling in higher education from Kutztown University and is a licensed professional counselor. He is the program director for Chestnut Hill College's M.S. in Clinical and Counseling Psychology Lehigh Valley program at DeSales University. He is a member of the American Counseling Association for over 25 years, the Association for Multicultural Counseling and Development, the Society for Sexual, Affectionate, Intersex, and Gender Expansive Identities, and a founding member of the Counselors for Social Justice division. He is also a member of the Pennsylvania Counseling Association for which he has served as president and in other leadership roles. He is a co-author of the text, Counseling Multiracial Families along with numerous other book chapters and professional publications on this topic. He has been an invited speaker and presenter for numerous workshops and professional conferences nationally and internationally.
Panelist 6 Bio:
Susan Branco, PhD, LPC (VA), LCPC (MD), is a transracial adoptee, adopted internationally from Colombia, South America. She is an advocate for increased adoption related research and training within counselor education and is passionate about improving mental health outcomes for transracially adopted persons. Dr. Branco is a Licensed Professional Counselor and clinical assistant professor in the clinical mental health master's program at the Family Institute at Northwestern University. She earned a PhD in counselor education and supervision, a post master's degree in marriage and family therapy, and a master's degree in rehabilitation counseling. For over 14 years she maintained an independent practice working with members of the adoption constellation. Her research interests include transracial adoption and mental health, Colombian adoption policy, and clinical training and supervision practices for counselors of Color. Dr. Branco is the recipient of the 2021 International Association for Marriage and Family Counselors' Outstanding Leadership Award, the 2019 National Board for Certified Counselors Foundation Excellence in Counselor Education and Supervision Bridging the Gap Award, the 2018 Excellence in Multicultural Teaching Award from the Chicago School of Professional Psychology, and is a 2014 Minority Fellowship Program awardee.
Moderator Bio:
Regina Finan (she/her) is a doctoral candidate in the Counseling & Student Personnel Services program at the University of Georgia. She identifies as a biracial Black and Korean cisgender woman who is able to acknowledge the ways in which she experiences both privilege and marginalization. Her research interests include multiculturalism and social justice, counselor training, multiracial identity, and graduate student mothers. She currently serves as the Vice President for the Multiethnic and Multiracial Concerns Group in the Association for Multicultural Counseling and Development (AMCD). Her previous positions have included serving as the Task Force Chair for Multiethnic and Multiracial Concerns in AMCD and as the Co-Chair for the Southeast Association for Counselor Education and Supervision's (SACES) Human Rights and Social Justice Interest Network. Her training will serve as a launchpad to propel her into a career as a multicultural and social justice scholar and educator where she can continue to lean into conversations and advocacy that promote the eradication of inequities that impede well-being for minoritized and marginalized individuals and communities. Regina is a theoretical gardener (imagining exquisite landscapes) and occasional 'Top Chef.'
**Disclaimer**The zoom link for this webinar will be emailed approximately 24 hours before the scheduled event to the email you used to register for a ticket. Please kindly add the EventBrite platform to your safe sender list or check your junk mail. This is a recorded webinar for future AMCD use. As such, we remind you to kindly mute your devices as you are joining our meeting. The presenter will allocate time towards the end of the webinar for any questions guest might have. Guests are welcome to type their questions into the chat box or ask questions verbally. By asking questions verbally, you agree to AMCD's media recording rights and understand that your voice, as well as your video, will be recorded as well. Moreover, the AMCD Professional Development Committee holds the rights to dismiss guests, mute guests, and moderate guests as needed.
Date and Time
Location
Refund Policy
Contact the organizer to request a refund.
Eventbrite's fee is nonrefundable.