Description
What is COMPASSIONCON?
COMPASSIONCON is an urban retreat designed to help you improve your resilience and feel more connected to others – ultimately providing an overall sense of well-being.
We are approching the idea of compassion. If we want to be truly confident, at peace, living in alignment with our true and pursuing what we really want in our life, we need to create a shift in our perspective on what makes us successful and great leaders.
We will guide you to cultivate ideas and attitudes by understanding personal situations, particularly difficult ones. What is your compassionate mindset? You're invited to make a plan to shift your own mind-set and behaviors. Beliefs influence thoughts which in turn influence actions. Different actions create different results!
Agenda:
9:30am - 10:30am I Breakfast & Registration
11:00am - 12:00am I Rooftop Yoga presented by Daria Tsvenger
12:00pm - 12:15pm I Welcome to COMPASSIONCON
12:15pm - 1:00pm I Lightning Talk & Meditation by Stephanie and Shayan
1:00pm - 2:15pm I Lunch
2:15pm - 3:30pm I Compassion Panel - Speakers & Breakout Session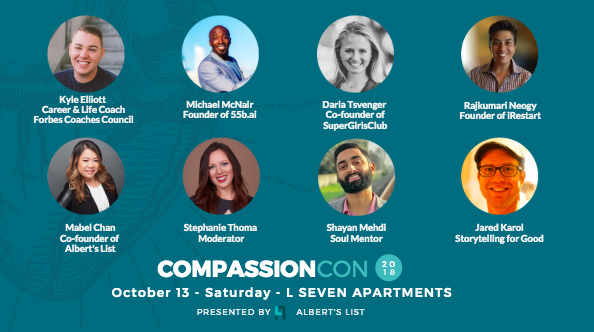 3:30pm - 4:00pm I Intermission
4:00pm - 5:00pm I Rajkumari Neogy - Workshop
Moderators:
Speakers:
Blending compassion with leadership can create not only a shift in your inner world but also in your outer performance and relationships. You can decide to shift to a growth mind set. The choice is yours.
Who Should Attend: Parents and caregivers, educators, healthcare professionals and therapists, executives and managers, public service leaders and employees, and anyone looking to increase awareness and mindfulness
Dress Code: Yoga Casual or Casual
Want to volunteer? E-mail us for details! Questions? Please reach out to us!
Albert's List: http://bit.ly/findyournextjob