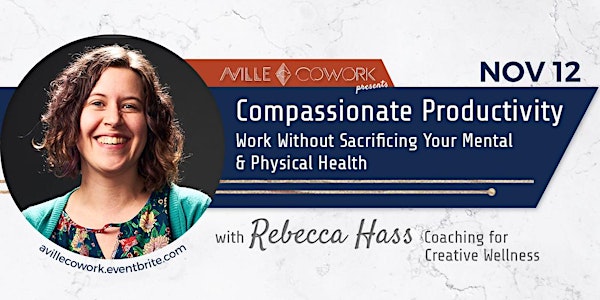 Compassionate Productivity: Work Without Sacrificing Your Health
Discover a healthy relationship with productivity — one that gets things done without leaving you exhausted and overextended.
About this event
We often get so focused on doing more that we lose sight of our health — both physical and mental. Come join us to learn some easy and tangible ways to practice having a healthy relationship with productivity!
In this workshop, we'll cover:
Ways you can work more effectively without having sacrifice your mental and physical health
How you can move forward on your goals in small and doable ways
How to practice self compassion when you have high expectations for yourself
Helpful reframes for limiting beliefs around productivity
You'll leave with your unique next best step to get your goals done in a way that treats you as a whole human, not your own mean boss!
——
About the Speaker
Rebecca Hass is a creative wellness coach, pianist, and composer living in Berkeley, CA. As a coach, she helps ambitious creative people self-compassionately reduce overwhelm so they have more energy to focus on the work that matters most, with space to enjoy life.
As a pianist, she specializes in Brazilian music and her compositions span a variety of topics, from samba grooves to crime-fighting manatees, which you can hear on her album Florescer (Bloom).
She also hosts the podcast Being a Whole Person, full of inspiration, encouragement, and tangible tips to help you self-compassionately grow your creative practice from a supportive foundation of wellness.
Connect Online
Follow Rebecca on Instagram, Twitter and Facebook.
Coaching website: coachingforcreativewellness.com
Music website: rebeccahass.com
Being A Whole Person podcast: coachingforcreativewellness.com/podcast
Coworking: coachingforcreativewellness.com/creative-coworking
Feel Good Creativity Unchallenge (5 days of free, super easy creativity and wellness prompts): http://bit.ly/fgcucpod
After registering, you can view event links to find the Zoom link. Access this either from your Eventbrite profile, or use the orange button in the reminder emails.