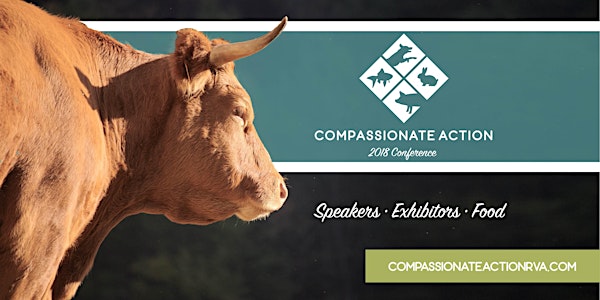 Compassionate Action Conference
Location
Orchard House
500 North Allen Avenue
Richmond, VA 23220
Description
Like many other cities, Richmond has a vast array of organizations focused on the welfare of dogs and cats.
Yet countless other animals – from chickens to primates to pigs to elephants – suffer silently alongside them for food, science, clothing and entertainment.
The Compassionate Action Conference (CAC) seeks to widen the circle of compassion to embrace all living creatures and the whole of nature in its beauty. By exploring the connection between our use of animals, the environment, and our health, we hope to broaden our awareness for all creatures who share this planet with us and begin building a more compassionate city.
We will be joined by speakers including Keegan Kuhn, co-director of the documentary films, Cowspiracy: The Sustainability Secret and What The Health, and Hannah Shaw aka The Kitten Lady -- plus several other fantastic speakers! Eat lunch from the GoGo Vegan Go food truck, and visit with a dozen organizations and learn more about important issues affecting animal welfare!
RSVP today -- space is limited.