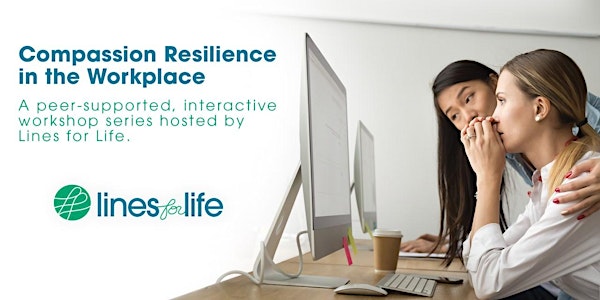 Compassion Resilience in the Workplace
Developing Compassion Resiliency Together
About this event
A peer-supported, interactive workshop series hosted by Lines for Life.
Compassion resilience is the practice of caring for ourselves so that we can continue to meet the challenges of working in the public service fields.
This workshop is designed, through assessments, activities, and readings, to help maintain and improve Frontline and Essential workers' workplace experience.
Learn and employ evidence-based skills to cope, restore, and safeguard your passion for this work.
Each session in the series is designed to build on previous session content. We understand that due to scheduling difficulties, participants may not be able to attend all six sessions.
Please register and attend all sessions that you are available – this series is designed to be sequential.
Sessions will be held on Monday, 9 AM to 11 AM Pacific Time.
on the following dates:
November 7, 14, 21, 28
December 5 & 12
Topics Include:
What is Compassion Resilience and why is it important?
Compassion Fatigue: Connection to trauma, stages and assessments
Compassionate Boundary Setting to build Compassion Resilience
Wellness and Resilience: Explore the Wheel of Wellness – Mind, Spirit, Strength, and Heart
Hosting this event series is Stacey Bergland, the Oregon Helpers Bilingual and Bicultural Group Facilitator. She brings over 20 years of frontline experience in the fields of Suicide Prevention, Mental Health and Substance Use Disorder Treatment and a passion for Worker/Employee Wellness. Their work in Employee Wellness is rooted in best practices, intersectional analysis, LGBTQIA+ inclusive, evidence based and trauma-informed care.