Compassion It : A Collaborative Workshop on Building Personal Resilience
Description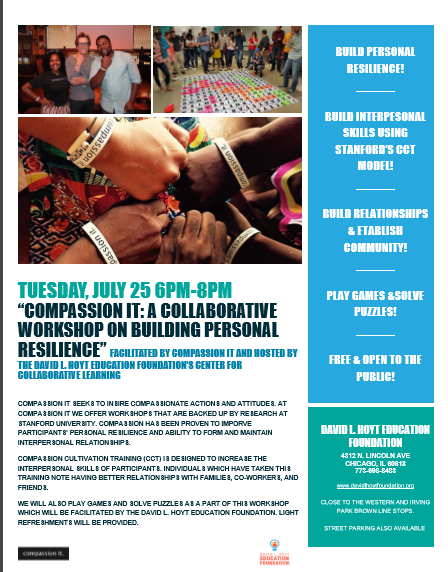 COMPASSION IT SEEKS TO INSIRE COMPASSIONATE ACTIONS AND ATTITUDES. AT COMPASSION IT WE OFFER WORKSHOPS THAT ARE BACKED UP BY RESEARCH AT STANFORD UNIVERSITY. COMPASSION HAS BEEN PROVEN TO IMPORVE PARTICIPANTS' PERSONAL RESILIENCE AND ABILITY TO FORM AND MAINTAIN INTERPERSONAL RELATIONSHIPS.
COMPASSION CULTIVATION TRAINING (CCT) IS DESIGNED TO INCREASE THE INTERPERSONAL SKILLS OF PARTICIPANTS. INDIVIDUALS WHICH HAVE TAKEN THIS TRAINING NOTE HAVING BETTER RELATIONSHIPS WITH FAMILIES, CO-WORKERS, AND FRIENDS.
WE WILL ALSO PLAY GAMES AND SOLVE PUZZLES AS A PART OF THIS WORKSHOP WHICH WILL BE FACILITATED BY THE DAVID L. HOYT EDUCATION FOUNDATION. LIGHT REFRESHMENTS WILL BE PROVIDED.