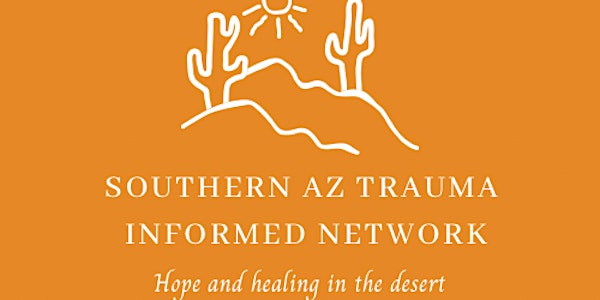 Compassion Fatigue and Self Care
As helpers, we are exposed to the impact stress and trauma on a regular basis. Join us as we use a trauma-informed lens to explore more!
By Southern Arizona Trauma Informed Network
Date and time
Thursday, June 8 · 11:30am - 1:30pm PDT
About this event
As helpers, we are exposed to the impact stress and trauma on a regular basis. This training will use a trauma-informed lens to explore compassion fatigue and the importance of self-care. Participants will how to identify, prevent, and address symptoms of compassion fatigue. Participants will gain practical strategies for strengthening and maintaining their own self-care.
We are sorry, but due to the proprietary nature of the material presented, we don't record our trainings.
Trainer: Sara Moody MSW & Serena Samaniego LPC
Sara Moody has spent the last 10 years working within the behavioral health system, ensuring youth and families are receiving the services that will help them succeed. She was the Behavioral Health Manager for the Comprehensive Medical and Dental Program (CMDP) under the Department of Child Safety (DCS) for 8 years. During her entire 18.5-year tenure at the DCS, Sara also worked as an ongoing DCS Specialist, Ongoing Supervisor and Mental Health Specialist. She found a new passion as a stanch advocate for youth in the foster care system when she began as a DCS Mental Health Specialist. That passion was put to good use in developing strong community collaboration, aiding in developing solutions to a very challenging and complicated system, and ensuring foster care youth received appropriate behavioral health services. For the last 2 years, Sara continues to support the families in Pima County as the Clinical Director of Care Coordination at Casa de los Niños. Sara also resonates this advocacy and passion through leading the Pima County Birth to Five Workgroup and is the Co-Chair of the Southern Arizona Trauma Informed Network. Both groups focus on providing increased knowledge within the community, which will hopefully lend to more positive outcomes for youth and families.
Serena Samaniego is a Licensed Professional Counselor and has over 14 years of experience in the field of mental health. Her primary areas of focus are Trauma Informed Care, Parent-Child Relationships, and Infant and Early Childhood Mental Health. Serena is a founding member of Southern Arizona Trauma Informed Network and her professional interests include supporting children and families who have experienced trauma reconnect with hope and resiliency as well as promoting the importance of trauma responsive communities.
This training will take place from 11:30AM-1:30PM - Mountain Standard Time (Phoenix)
The Zoom Link for the training will be in the confirmation email you receive once you register.
If you have benefited from our FREE SATIN trainings and would like to make a donation of any size to help continue this work, you can give here:
About the organizer
The Southern Arizona Trauma Informed Network is a consortium whose goal is to create a trauma informed community and to promote resiliency.