Join us for our Fall Farm Dinner with Chef Cesar Cano for an evening to celebrate the love and memories that are created through food.
About this event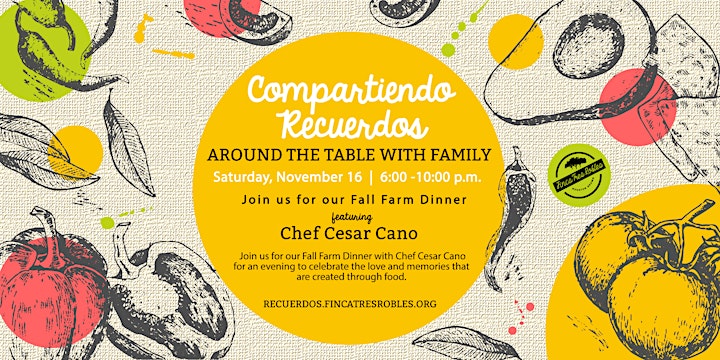 Family is such a critical aspect of our food. The moments we shared with our loved ones cooking, eating, and drinking are some of our most cherished. Join us on the farm with Chef Cesar Cano for an evening to celebrate the love and memories that are created through food. The evening will include a family style dinner with multiple courses prepared by Chef Cano that he learned with family growing up, utilizing the seasonal produce from the farm, as well as craft beer sponsored by City Acre Brewing, wine, and dessert.
You are invited to join us around the table as part of our farm family to share laughs, stories, food, drinks, and each other on the farm.
When: Saturday November 16th, 5:30 - 10:00pm
Farm Tours from 6:00pm - 6:30pm
Dinner will be served at 7:00pm
Music and Drinks until 10:00pm
We hope to see all of you out at the farm to share these memories with us. Space is limited, so get your tickets today! Ticket sales will benefit the mission and work of Finca Tres Robles.
Chef Cesar Cano, a culinary graduate, retired line cook, English teacher, and reluctant writer. He was a finalist on Gordon Ramsay's cooking competition MasterChef in 2018. Cesar is also the owner of Taque_Son PopUp Dining, a concept he is recently describing as performance art since all food is prepared in front of guests seconds before it is consumed. He cherishes the act of creating and sharing dishes with others. His cooking style captures his Mexican heritage, and the myriad of flavors found in Houston's eclectic food scene accentuate his version of Mexican dishes. His weapon of choice is the taco and he holds monthly taco tastings in his home. Be sure to follow him @taque_son to see more of his incredible work!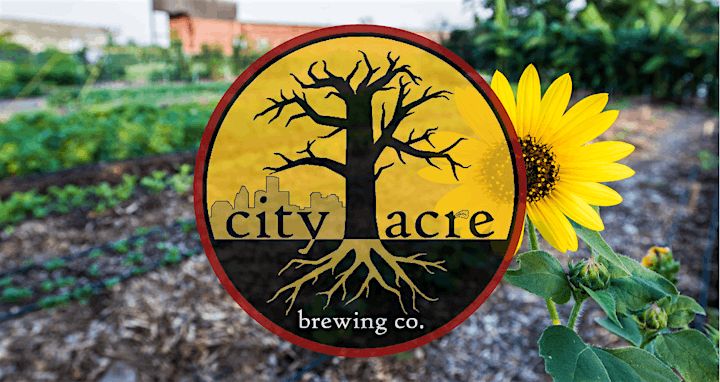 City Acre Brewing is the latest to hit Houston's growing craft beer scene. Located north of downtown off Highway 59, the new brewpub features its own label and also serves other labels brewed around the region. To maintain a variety, City Acre concentrates on creative small batches that make use of seasonal ingredients—some of which are actually grown in a garden on the grounds.
Setting itself apart from other area breweries, City Acre also serves beer-inspired food from locally obtained ingredients and hosts themed events including quarterly harvest dinners featuring unique beer pairings. Dig into shared bites like house made soft pretzels, charcuterie plates or Belgian style frites. Or, go big with an array of burgers and sandwiches. We're extremely grateful to have them sponsoring beer for our dinner and highly recommend stopping by their brewpub soon!
Finca Tres Robles, located in Houston's historic Second Ward, is the only privately operated farm within the 610 loop. We believe in the importance of making organically grown fruits and vegetables accessible to individuals and families on the East Side and have spent the last four (4) years transforming a long-time vacant lot into a productive and inclusive space that serves our immediate community. We believe that that small places matter and with commitment, purpose, and passion their impacts reach far beyond their borders.
Organizer of Compartiendo Recuerdos: Around the Table with Family
Small Places believes that quality, local food should be made available to all people regardless of location and income, that food should stay as close as possible to where it is produced, and that through thought, collaboration and the right resources we can show small places matter. Our first farm, Finca Tres Robles, has tranformed over the last 3 years from a 1.25 acre, longtime vacant lot into a working farm that is beginning to make fresh organic fruits and vegetables accessible to the residents of Houston's East Side and beyond.