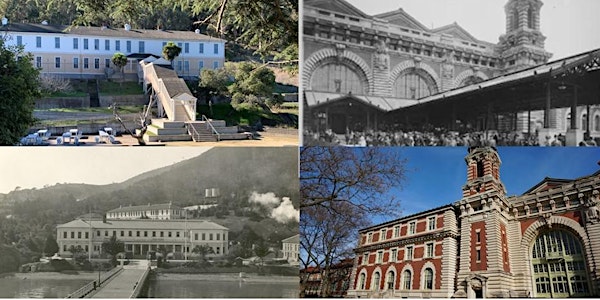 Comparing and Contrasting Immigration at Angel Island & Ellis Island
These two islands had the largest US Immigration Stations on the West Coast and East Coast. But is that where the similarities end?
By Angel Island Immigration Station Foundation
Date and time
Wednesday, May 11, 2022 · 5 - 6pm PDT
About this event
Join us for a virtual conversation with staff from both islands who will provide an overview of each immigration station's histories and preservation efforts. Discussion will focus on the similarities and difference between what immigrants experienced at Angel Island and Ellis Island. This presentation is co-hosted by the Angel Island Immigration Station Foundation and the Statue of Liberty Ellis Island Foundation in honor of Asian Pacific American Heritage Month and Jewish American Heritage Month.
About the organizer
Angel Island Immigration Station Foundation (AIISF) raises awareness of the experience of immigration into America through the Pacific. AIISF collects and preserves the rich stories and personal journeys of thousands of immigrants, and shares them with visitors and everyone living in America through education initiatives and public programs. The Angel Island Immigration Station reminds us of the complicated history of immigration in America.  It serves as a symbol of our willingness to learn from our past to ensure that our nation keeps its promise of liberty and freedom. Learn more at www.aiisf.org.