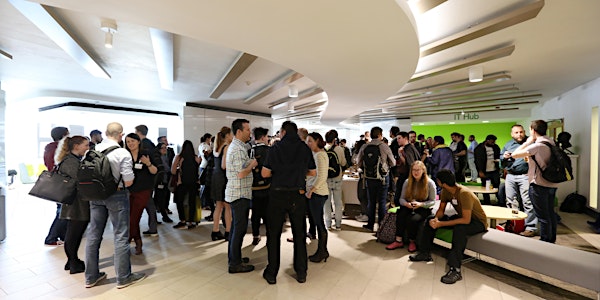 COMPARE Annual Research Symposium 2019
When and where
Location
Jubilee Conference Centre University of Nottingham Triumph Road Nottingham NG7 2RJ United Kingdom
Description
The COMPARE Annual Research Symposium 2019 will take place at the Jubilee Conference Centre, University of Nottingham on Thursday 26th September 2019.
Please register your attendance as soon as possible by clicking on the link above and completing the registration process.
The agenda for the day is as follows;
Time
Session
Speaker/venue
09:25
Welcome and introduction
Steve Hill
University of Nottingham
Session Chair: Prof Steve Hill
09:30
Probing receptor function with intramolecular FRET sensors
Carsten Hoffmann
University of Jena
10:00
Chemical and genetic inhibition of heterotrimeric G protein function: when dogmata meet new reality
Evi Kostenis
University of Bonn
10:30
Extending the use of fluorescent ligands to study GPCR pharmacology
Leigh Stoddart
University of Nottingham
11:00
Refreshments
Session Chair: Prof Jeanette Woolard
11:30
New methods for quantitative single molecule microscopy
Dirk-Peter Herten
University of Birmingham
12:00
The interface between COMPARE and clinical science
Ian Hall
University of Nottingham
12:30
Poster session and lunch
Session Chair: Prof Meri Canals
13:30
Virus hijacking receptor signaling for cell motility
Jason Mercer
MRC LMCB
14:00
GPCR-lipid particles: the shape of things to come

Mark Wheatley
University of Coventry
14:30
Nanobody approaches to study GPCRs in living cells
Mark Soave
University of Nottingham
14:50
Refreshments
Session Chair: Prof Davide Calebiro
15:20
CRISPR/Cas9 approaches to study GPCR signalling and ligand-binding
Carl White
University of Nottingham
15:40
Influence of a bitopic adenosine A1-receptor ligand on cardiovascular haemodynamic
Samantha Cooper
University of Nottingham
16:00
GPCRs and metabolic disease
Alejandra Tomas
Imperial College London
16:20
Closing remarks
Steve Watson
University of Birmingham
16:30
Poster session
Refreshments available
Transport will be organised from Birmingham to Nottingham, please indicate your requirements during registration.
Abstracts to be submitted by midday, Friday 23rd August 2019, as a Word document to compare@birmingham-nottingham.ac.uk. Abstract guidelines will be sent to delegates following registration.
Further details can be obtained by emailing compare@birmingham-nottingham.ac.uk.
COMPARE
http://www.birmingham-nottingham.ac.uk/compare/index.aspx
The personal data you submit on registeration will be processed and stored by the University of Nottingham in order to organise the COMPARE Annual Research Symposium only. For more information on how we manage your data and your rights to it https://preview-uon.cloud.contensis.com/utilities/privacy.aspx"