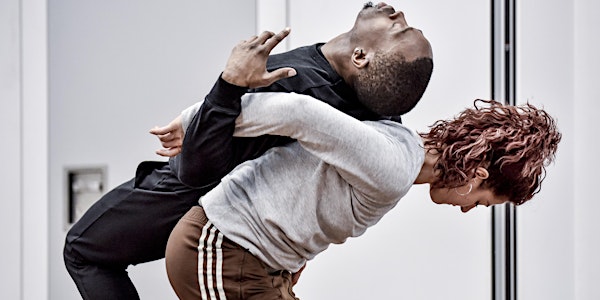 Company Chameleon Professional Intensive 2019 Summer Masterclass Series
When and where
Location
Company Chameleon 6 Barrass Street Openshaw Manchester M11 1PU United Kingdom
Refund Policy
Refunds up to 30 days before event
Description
Three masterclasses, three days, three unique opportunities to develop your practice. We invite final year students, graduates and professionals to take part in our Summer Masterclass Series with Anthony Missen, Kevin Edward Turner and Gemma Nixon.
MASTERCLASS NO.1: 360 DEGREES CHAMELEON
Wed 24 July, 10am-6pm
With Kevin Edward Turner, Co-Artistic Director, Company Chameleon
Develop your technique, investigate our repertoire and learn new approaches to contact improvisation and partnering. It's all here in this packed masterclass, providing 360° insight into Chameleon's unique approach, training and dance style.
What's involved?
Take part in Class incorporating a mixture of body conditioning, drills, floor-work and improvisation.
Investigate Chameleon's repertoire with a focus on Amaranthine, our male and female duet exploring conflict and resolution. The work is intricate, physical and has strong partnering and weight sharing aspects.
Learn new pathways and approaches to lifts as well exploring the creative potential contained within contact improvisation and partnering.
MASTERCLASS NO.2: NEW BOUNDARIES
Thu 25 July, 10am-6pm
With Gemma Nixon, Associate Artist
Focus on energy efficiency, use of text and dialogue as choreographic stimulus and improvisation exploring the space around us, group dynamics and characterisation. In this masterclass with Gemma Nixon, you'll discover new boundaries to push forward your practice, and leave feeling empowered and inspired.
What's involved?
Explore floor-based movement systems, weight and release to transport the body and Cunningham-based standing phrases in morning class.
Use text as choreographic stimulus and explore how to action, activate and physicalise dialogue and text to create duets, trios and group pieces.
Explore different stimuli for improvisation using the space around us, sounds, words, characterisation, group dynamics and boundaries.
MASTERCLASS NO.3: BRINGING THEATRE TO DANCE
Fri 26 July, 10am-6pm
With Anthony Missen, Co-Artistic Director, Company Chameleon
Gain insight into movement direction and explore how movement can be used to communicate and tell a story. Join Anthony Missen, as he shares his vast experience of dance theatre and movement direction, to deliver a masterclass that will go beyond the aesthetic.
What's involved?
Explore character development, story-telling and communicating through movement.
Learn about the discoveries Anthony has made in his work as a Movement Director.
Take part in creative exercises for generating theatrical scenes, solos, duets and groups.
Please note the above cost does not include accommodation, we can however send a list of recommended places to stay upon the point of booking. For further information please contact: info@companychameleon.com