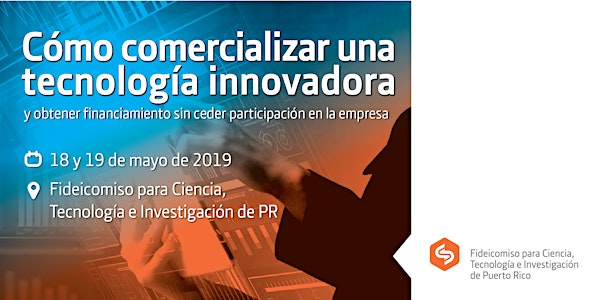 Cómo comercializar una tecnología innovadora
When and where
Location
Puerto Rico Science, Technology & Research Trust San Juan San Juan, San Juan 00927 Puerto Rico
Description
Pathway to Award Series:
The Pathway to Award Workshop is designed for people actively interested in commercializing innovative technology. The program's goal is to inform participants of the potential value available to small business innovators through the Small Business Innovative Research (SBIR) and the Small Business Technology Transfer Research (STTR) programs and provide hands on support to transition innovative technology to commercialization through US Federal funding mechanisms.
The workshop will consist of two tracks:
Beginner

Intermediate
Track 1 - Beginner - May 18th
This track will provide basic SBIR/STTR information to those who are not familiar or do not feel confident on their SBIR/STTR knowledge.
The SBIR/STTR course available on the Trust's website will be shown and discussed with the expectation of having active participation by the audience as the floor will be open to questions and comments as we progress through the modules.
Track 2 - Intermediate - May 18-19th
The SBIR & STTR programs will be briefly discussed to give an overview of their potential value to technology innovators. Participants or participating groups representing a single technology will present a 15-20 minute discussion of their innovative technology and their small business' status toward commercialization. A panel with expertise in federal grant funding and small business will provide a brief feedback session to the presenters at the end of each presentation in an open forum.
Since all participants in the workshop will be in the audience, all audience members will be required to sign a non-disclosure agreement so that this forum will not be considered a public disclosure. This is to protect the technology from public disclosure, which would prevent patent filing.
After the technology and innovation presentations, participants can join one of these groups:
Group 1 provides a deeper dive into the intricacies of the SBIR and STTR programs, an interactive discussion of small businesses and the requirements for getting a new business off the ground.

Group 2 will provide groups that are planning on submission of SIBR or STTR proposals an opportunity to work in small groups with the panel experts to help position their technology for submission. This will also include setting up a timeline for obtaining interaction and support from Trust personnel.
Note: To be most valuable, participants are encouraged to develop a draft proposal or outline and to review potential agency solicitations to decide potential topics to which they might submit.

Follow-On Support
The Trust will assign supporting resources as needed to each group and encourage continuing interaction with the small business innovators to get proposals successfully submitted and funded by the targeted federal agencies.
Please send questions to: sbir@prsciencetrust.org