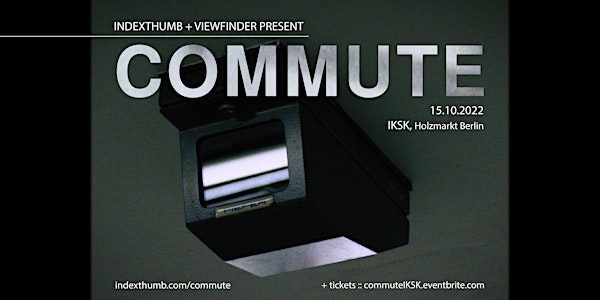 COMMUTE
A multi-screen, ambisonic installation exploring virtual isolation, identity decay and haunted public space.
When and where
Location
IKSK - Institut für Körperforschung und sexuelle Kultur Holzmarkt 25 Haus 2 / #4. Etage 10243 Berlin Germany
Refund Policy
Contact the organizer to request a refund.
About this event
A hybrid of experimental documentary, personal film, and music video, COMMUTE is an immersive audio-visual installation, focusing a lens on the interlaced magic and horror of contemporary city life. Filmed and recorded in Berlin's U-Bahn during the 2020-2022 lockdowns, COMMUTE presents a haunted and horrifying public space in which all connections are confused, shut down, or failing.
As society becomes increasingly virtual, what happens to the public spaces that we leave behind? Who and what are "we" and our shared surroundings when we only experience ourselves as "I"? In the wake of an event like the pandemic, which catalysed our transition to the virtual, how do we re-establish a connection to the bodies, spaces, and sounds around us?
Utilising four video projections, 360' ambisonic sound, and an immersive installation space, COMMUTE leads its audience into six fragmented public environments to help each viewer reflect upon their relationship to their surroundings and fellow commuters. Come experience the first ever showing of this subterranean, subconscious transit at IKSK on October 15.
To start your journey please visit www.indexthumb.com/commute
FURTHER INFORMATION
Each screening of COMMUTE lasts around 30 minutes.
Please purchase a ticket for the time slot you are able to make. Tickets are only valid for the time slot they indicate.
Viewers are invited to come 10-15 minutes early so that screenings can start promptly.
To accommodate the size of the installation space, tickets are limited to 15 spots per screening.
If you are unable to attend the screenings, but would still like to see COMMUTE and support the artists, you can select the VIRTUAL COMMUTE ticket. We'll send you a link to a '2D' version of COMMUTE to watch in the comfort of your own home on a single screen.