Description
Community Workshop
The Frontier is constantly growing, and we hope you and your business will come along for the ride with us!
Each month we will be offering various workshops on special topics as they pertain to your small business or startup. We will have a diverse group of experts from throughout the Triangle, some of which are tenants in this very building, teaching our classes in a small group setting. The classes will always be free; we love this community and want to pay it forward in helping hit your next milestone.
A light breakfast and coffee will be provided so come get your morning started with us and do great things.
Workshop Topic
How to Rank Higher on Google Searches
Course Overview
Getting seen on the first page of search engine result pages is crucial for businesses and online marketers. Search Engine Optimization (SEO) helps improve website rankings, and it is often complex and confusing. This course will go over the basics of how Google's mythical algorithm determines where your website ranks in search results. This process is called indexing and it is the driving force behind all search rankings.We will also cover basic ways to use SEO to optimize your website and other outside sources (Social Media, Content Creation, Google Business Listings ect) to improve your rankings, especially on the local level. Course will be taught by Rob Sherwood of Oak City Technology.
About Oak City Technology
Oak City Technology is a full service web design, development and SEO firm located on the 3rd floor of The Frontier Building in RTP. At OCT we create clean and modern, user friendly websites and apps that help any business stand out from the competition. We speak the language of Google, with our years of experience with SEO we can help businesses stand out in a crowded industries and bring in leads through organic search rankings. We specialize in responsive design which enables your website to scale to any size screen. Keeping your website design consistent through all platforms.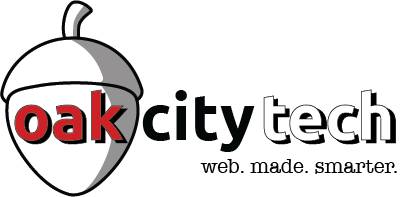 Workshop Outline

8:30am | Coffee & Donuts
8:35am | Introductions
8:40am | Class Begins
9:20am | Q&A
9:30am | Wrap up