Description
Workshop Topic
The Athlete Advantage - Transferable Skills for the Competitive Business World
Course Overview

In this workshop you will learn the top 3 skills most utilized by elite athletes. Why? Their strategies for success are readily transferable to the competitive world of business. And the business world is taking notice. If you want to be better in everything that you do and get the most out of life you won't want to miss this workshop. Here are the skills you will explore and learn how to leverage with purpose:
Priming for success


Choosing effective ways of thinking

Regulating your physiology
Workshop Outline
8:30am | Coffee & Donuts
8:35am | Introductions
8:40am | Class Begins
9:20am | Q&A
9:30am | Wrap up
About Our Teachers
Meg Foley, MS and Katharine Leslie, PhD are the owners of OPTHRIVE. They teach brilliant minds and front of the wave teams how to thrive and sustain themselves and the companies they create. They have an extraordinary array of expertise in the leadership, sport and academic performance, military warrior, human development, and neuroscience arenas. Their brain-based immersion learning experiences and on-going accountability coaching is the most effective and expedient process for ingraining top performance, resilience and mental strengths skills.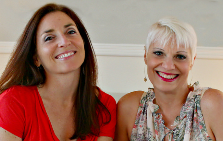 ---
Community Workshops
The Frontier is constantly growing, and we hope you and your business will come along for the ride with us!
Each month we will be offering various workshops on special topics as they pertain to your small business or startup. We will have a diverse group of experts from throughout the Triangle, some of which are tenants in this very building, teaching our classes in a small group setting.
A light breakfast and coffee will be provided so come get your morning started with us and do great things.