Description
Celebrate our Champions for Change! The Community Volunteer Awards recognizes the volunteers, nonprofits and businesses who are making Dane County the best place to live for all!
Join us for lunch, and to honor the thousands of volunteers in our community, more than 100 nominees and the 2019 award recipients. This year's program will feature powerful testimonials and the launch of our Volunteer Engagement Mobilization Plan.
We're excited to host a panel highlighting the benefits and importance of quality volunteerism in Dane County, and the following panelists will share their work and expertise in this area.
Sarah Condella, Senior Vice President of Human Resources at Exact Sciences

Jenny Czerkas, 2007 Community Volunteer Award Recipient and volunteer at The River Food Pantry

Kingsley Gobourne, Community Outreach Officer at Old National Bank and member of the United Way Business Volunteer Network

Dan Stein, President and CEO at Second Harvest Foodbank of Southern Wisconsin

Sammie Stoiber, Senior at West High School and By Youth For Youth representative on the United Way Board of Directors
---
Thanks to the generous support of our sponsors, this event is free for all guests!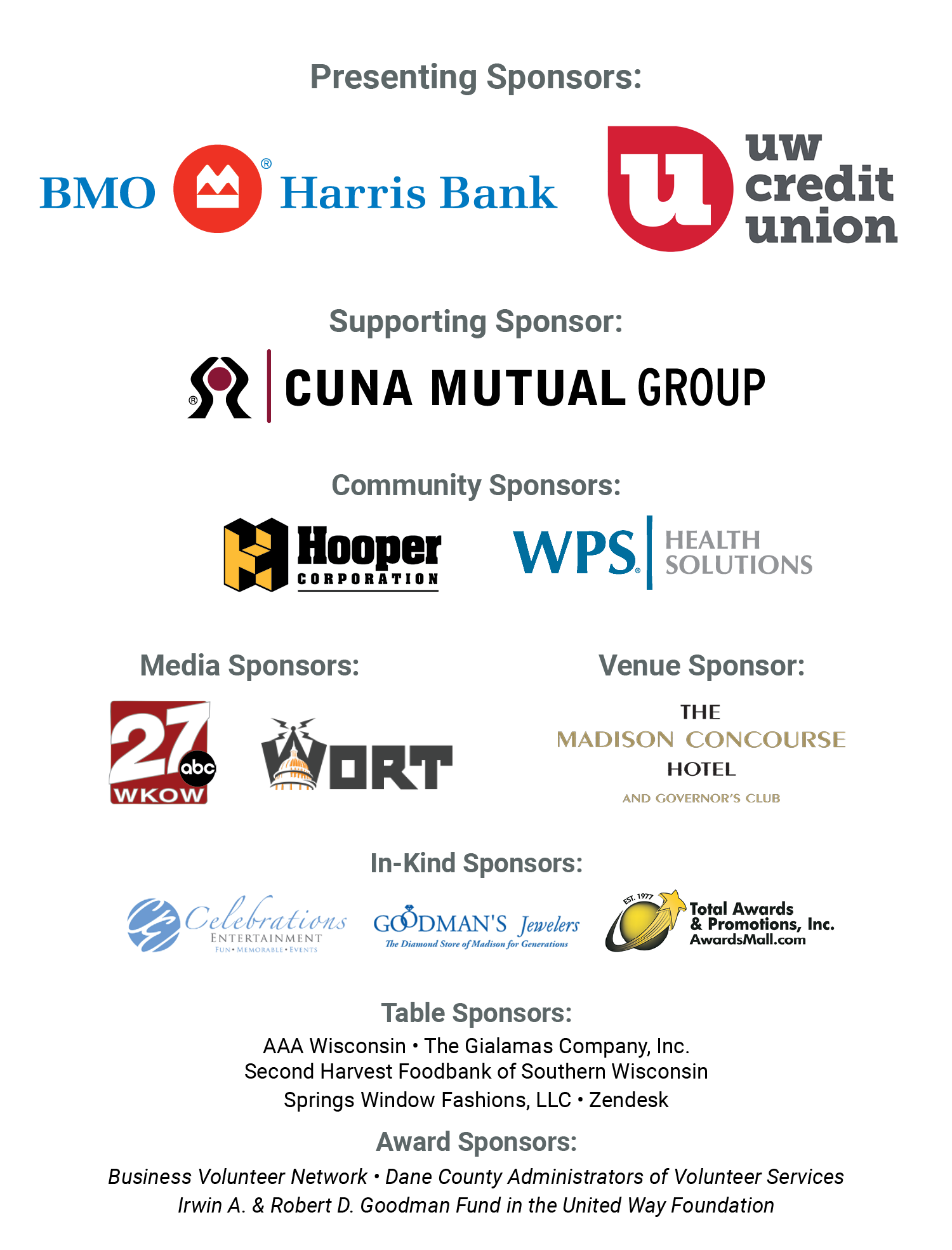 ---
Frequently Asked Questions
Is there a cost to attend? No. This year's event is free thanks to the generous support of our sponsors!

How does seating work? We will have open seating for the Community Volunteer Awards luncheon, so a sponsored table is the best way to ensure a table for your group! Please contact Stefanie Herrick at stefanie.herrick@uwdc.org to sponsor a table of 8 for $1,000 (nonprofit rate of $500) and learn more about sponsorship benefits.

Who are the award recipients? It's a surprise! We will honor all of this year's nominees and announce the award recipients for the first time during the program.

What's for lunch? Marinated Grilled Chicken Cobb Salad - Romaine lettuce, tomatoes, crisp hickory bacon, hard-boiled egg, blue cheese, Kalamata olives, avocado, Green Goddess dressing. (Can be modified to be vegetarian, vegan, or dairy-free.)