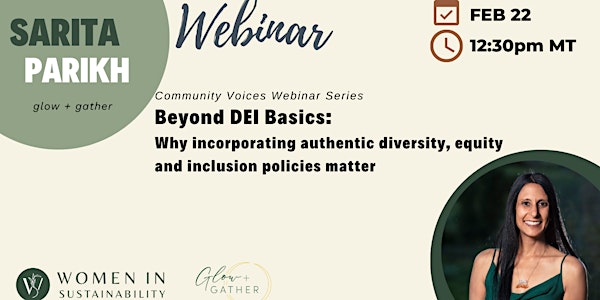 Community Voices Webinar: Beyond DEI Basics
Community Voices Webinar: Beyond DEI Basics - Why incorporating authentic diversity, equity and inclusion policies matter
By Women in Sustainability
Date and time
Wednesday, February 22 · 11:30am - 12:30pm PST
About this event
February 2023 Topic: Beyond DEI Basics - Why incorporating authentic diversity, equity and inclusion policies matter w/ Sarita Parikh, glow + gather
About the Webinar:
WIS Members share their expertise with the community in this special virtual series.
Description:
Diversity, Equity and Inclusion (DEI) are buzzwords in today's society. Many organizations (for profit and nonprofit) have updated their organizational policies to include a DEI statement. However, these policies tend to fall short of implementation and practice. Why? Many are created as part of the buzz and not a part of the plan. To truly be a diverse and equitable organization, we must look beyond the basics. Join this webinar as Sarita Parikh dives into the importance of incorporating authentic DEI practices, why it matters and provides tips on creating DEI policies that are embedded in the organizational culture. You'll leave feeling inspired to move beyond the DEI basics to create a more authentic space where all are welcome.
About the Presenter:
Sarita's lived experiences growing up Indian American guided her passion for social, economic, and environmental justice and the recognition that it's all connected. Her commitment to addressing diversity, race, and equity, and belief in the role of regenerative business as a path to uplifting communities and creating change led her towards entrepreneurship. From healthcare to manufacturing and retail, Sarita has 20 years of experience successfully starting and running companies committed to facilitating health, creating impact, providing mentorship, advocating for social, economic, and environmental justice, and building community.
Sarita serves as the DEI Chair on Women in Sustainability's Board of Directors.
Accessibility:
Closed Captions will be available for this webinar.
Recording:
This event may be recorded for use by Women in Sustainability. By participating in this webinar, you automatically agree to authorize recording of audio and visual content presented during the live event and consent to subsequent use of the recording in the public domain by the provider presenting the live webinar. The audio and visual recording of the live webinar includes documents and materials exchanged or viewed during the live event; questions asked and poll answers provided by you during the live event; the closed captioning transcript; and the chat box transcript. You are not required to keep your video on during this presentation. You can cancel your order at any time.
Disclaimer:
The views, data, information and opinions expressed in this presentation are those of the presenters and do not necessarily reflect the official policy or position of Women in Sustainability, any other agency, member, organization, employer or company associated with Women in Sustainability. Women in Sustainability encourages attendees and members to challenge the status quo and each other's views, however, we focus on this with civil discourse and positive action. WIS believes in engaging in conversation that "challenges ideas, not people". The content provided by WIS educational programming is meant to educate and inform critical - thinking on sustainability topics and subject to individual interpretation. Our content is intended to be used for informational purposes and it is important to do your own additional research and analysis on the subject to form your own beliefs and opinions. In addition, the data and views represented are subject to change, revision and rethinking at any time due to additional data and research. Furthermore, WIS does not verify for accuracy any of the information contained in this presentation and is not responsible for any errors. Presenters are considered to be experts in their particular fields and WIS relies on their expertise to present the information in an accurate and professional manner. Any questions or comments on the content provided during the presentation should be directed to the presenter(s).
All rights reserved. Any content in this presentation cannot be copied or reproduced without the expressed written consent of Women in Sustainability and the participating presenters.
About the organizer
Women in Sustainability (WIS) is a nonprofit dedicated to caring for the people that care for the planet by creating community and advocating for all along with providing resources and education in all aspects of sustainability. WIS intentionally creates a safe space for like-minded and diverse individuals to create purposeful connections. All are welcome in this community. Because you care, we care for you.