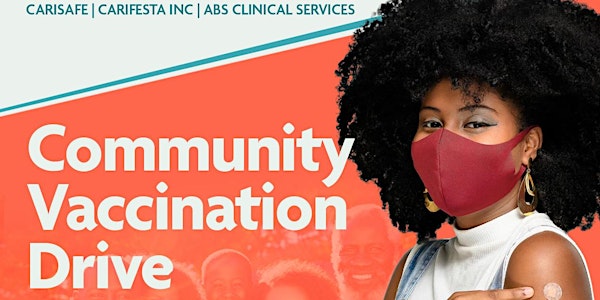 Community Vaccination Drive
The Community Vaccination Drive is a FREE onsite event created to serve the local Caribbean Community in the DMV area.
When and where
Location
5632 Annapolis Rd 5632 Annapolis Road Bladensburg, MD 20710
About this event
CARISAFE in association with CARIFESTA INC and ABS CLINICAL SERVICES, have organized a Community Vaccination Drive. This is a FREE onsite event created to serve the local Caribbean Community in the DMV area. No Health Insurance needed.
COVID-19 TWO-DOSE VACCINATIONS & BOOSTER SHOTS AVAILABLE
PFIZER: FOR AGES 5-11 & 12 & UP
MODERNA: FOR AGES 18 & UP
FLU SHOTS FOR ALL AGES
01/15/2022
12PM-6PM
ABS Clinical Services, 5632 Annapolis Rd. Suite 11, Bladensburg, MD 20710
Booster shots are available. (Pfizer & Moderna)
Two-Dose Pfizer shots are available for ages 5 -11 and 12 & Up.
Two-Dose Moderna shots are available 18 & Up.
FLU Shots are also available.
Interested persons must sign-up to receive their vaccination confirmation.
Once you receive your confirmation, you will be emailed a Patient Registration From.
A completed Patient Registration Form must be presented for each patient at the time of vaccination.
NO INSURANCE IS NEEDED TO GET YOUR VACCINE SHOT!!!
All persons must show identification to complete the vaccine process. For children 5-17 years of age, a parent or legal guardian must provide consent for vaccination, either in person, by phone at the time of the vaccination appointment, or by completing a consent form. For minors who are 5 through 15 years of age, additionally, an adult caregiver must accompany the minor.
Second-dose appointments, if applicable, will be scheduled during the first clinic visit. Individuals 17 and younger must get consent from a parent or legal guardian before getting vaccinated. Parents and legal guardians are encouraged to accompany their children to the clinic whenever possible.
Medical practitioners and emergency medical practitioners will be on-site at the clinic to answer any questions and tend to any needs or concerns. Contact 240-765-3663 with any questions.
Sign-Up at: www.carifesta.com
PROTECT YOURSELF AND YOUR COMMUNITY...GET VACCINATED!