Description
Community Town Hall: #OUR POWER PRNYC
Public Testimony from Puerto Ricans impacted by Hurricanes Irma and Maria
Two months later and many Puerto Ricans are still without power, water, and food. The US government continues to neglect our people as they fight for survival and the preservation of our culture.
Manhattan Neighborhood Network (MNN) will co-host a Town Hall meeting on Monday, December 11, at 6pm at the MNN El Barrio Firehouse Community Media Center featuring first-hand eyewitness accounts of the devastation and reports on urgently needed solutions and next steps from community organizations including OUR POWER PRNYC, Caribbean Cultural Center African Diaspora Institute, UPROSE, Creative Justice Initiative, Inc., and Latino Justice PRLDEF.
The televised Town Hall meeting will hear first-hand accounts documenting the atrocious conditions that Puerto Ricans on the island are still experiencing months after Hurricanes Irma and Maria lashed the Caribbean island, killing dozens and leaving thousands homeless. If you have been displaced or suffered other situations we welcome your sharing in a 2 minutes statement. The Town Hall will also hear about specific solutions to urgently step up relief efforts to stem the ongoing humanitarian and economic disaster. Testimonies will be submitted to the United Nations in 2018 on the Day of International Human Rights.
MNN's Town Hall also feature's a panel of legal experts and testify about the effects that hurricanes Irma and Maria have had on the island. The intent is to bring before the international community the violation of Human Rights being experienced by the people of Puerto Rico and the Diaspora and make the USA accountable for human rights violation.
Please join this community-wide conversation to discuss a united front to demand justice for Puerto Rico.
Legal panelists include:
Juan Cartagena, President and General Counsel of LatinoJustice PRLDEF
Elizabeth Yempierre, Co-Chair of the Climate Justice Alliance and Executive Director of UPROSE
Margarita Rosa, Lawyer and organizational leader with experience in the government and nonprofit sectors.
Stephanie Llanes, Movement Lawyer at the Center for Constitutional Rights (CCR)
---
Please email Dr. Marta Moreno Vega at drmartamorenovega@gmail.com and/or call at 212 -307-7420 EXT 200 for more information on testifying.
---
The Town Hall will air 6p-8p, December 5th, on MNN 1 which is on Spectrum 34, 1993, on RCN 82 and Verizon FiOS 34.
When: December 11, 2017
Admission: FREE
Where: Manhattan Neighborhood Network (MNN) 175 East 104 Street El Barrio, NYC
Time: 6:00 PM - 8:00 PM
Partners: Manhattan Neighborhood Network (MNN), Uprose, Caribbean Cultural Center African Diaspora Institute, Latino Justice, Center for Constitutional Rights.
---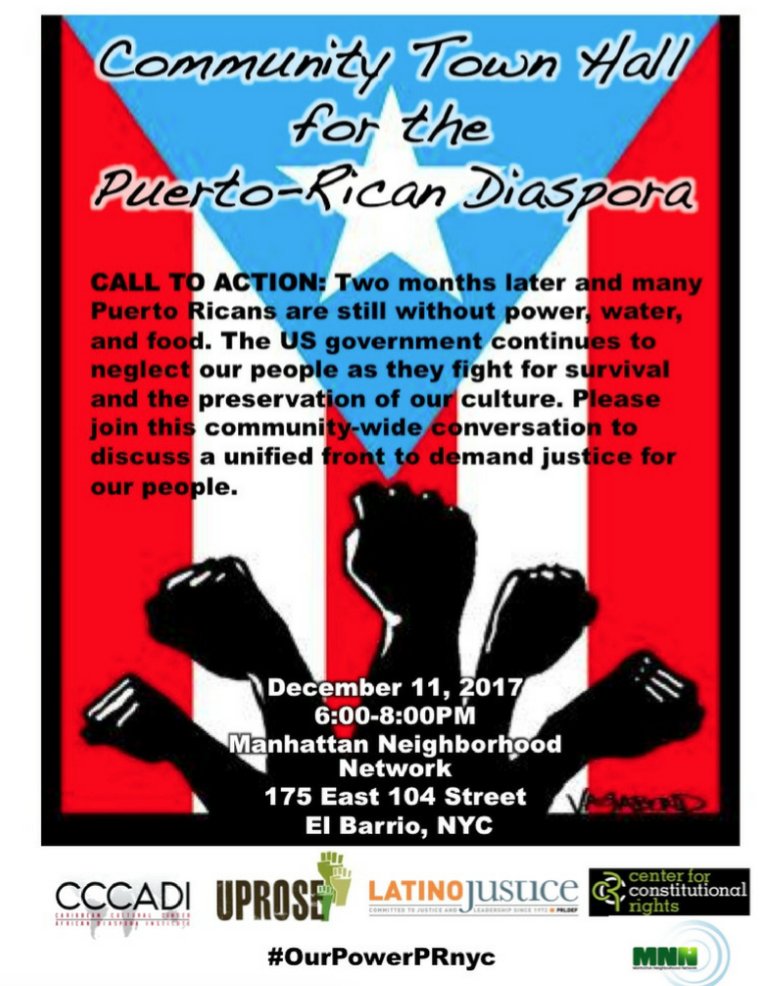 *Program subject to change
Photo Credit: Reuters