Description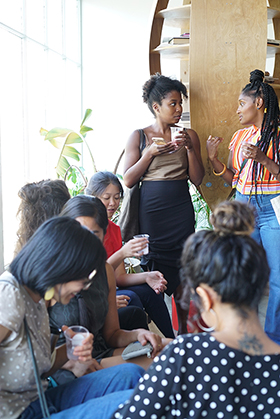 Join us for our second annual Community Symposium, with this year's theme Build Our Own Table. Through collaboration and ownership of our resources as a means of collective survival in mind, we have put together a day-long event aimed at skillsharing knowledge specific to business and project growth. We'll be discussing the leveraging of tools like tech and social media, and the demystification of institutional terms like 'investment capital' or 'equity' from abstract ideas to entry points for developing models of WOC-centered ownership. We will also build space for centering, self-care, and break-out topics such as Zero Waste.
We will bring together a diverse group of WOC who are thought leaders, entrepreneurs, activists, chefs, and cooks, doing powerful food-centered work.
Complimentary breakfast refreshments, happy hour, and raffle prize entry are included with ticket purchase.
Event Schedule:
9:45AM Coffee and Refreshments, Capuyo Café , Amara Kitchen and Follow Your Heart
10:00AM Welcome
10:15AM Owning Your Space
10:45AM Food Influencing
11:45AM Food & Tech
12:15PM Lunch
1:15PM Grounding Session: People's Yoga
1:30PM Attracting Funding & Investors
2:30PM Creating Worker Cooperatives
3:00PM Happy Hour (Non-Alcoholic options)
Featured Speakers:
Jenné Claiborne, Sweet Potato Soul
Corissa Hernandez, Craft Beer Cellar and House of Xelas
Sashee Chandran, Founder & CEO, Tea Drops
Becky Tehrani, Caviar
Alexandra Meda, Teatro Luna
More to be announced!
Break-out Space Activations:
Zero Waste, Elena Lopez of Todo Verde and LA Compost
Cookbook Pop-up, Now Serving
Raffle: June Oven & Thrive Market
Happy Hour featuring Xelas , South Central Brewing Co. and Greenbar Distillery Rum Cocktails

Who should attend:
Across Our Kitchen Tables creates an event series that focuses on, and prioritizes WOC in food. Each year for the symposium, allies who do not identify as WOC may attend and are asked to commit to holding space for WOC experiences. This event is family friendly.
Event Partners: