Event Information
Refund Policy
Contact the organizer to request a refund.
Eventbrite's fee is nonrefundable.
About this Event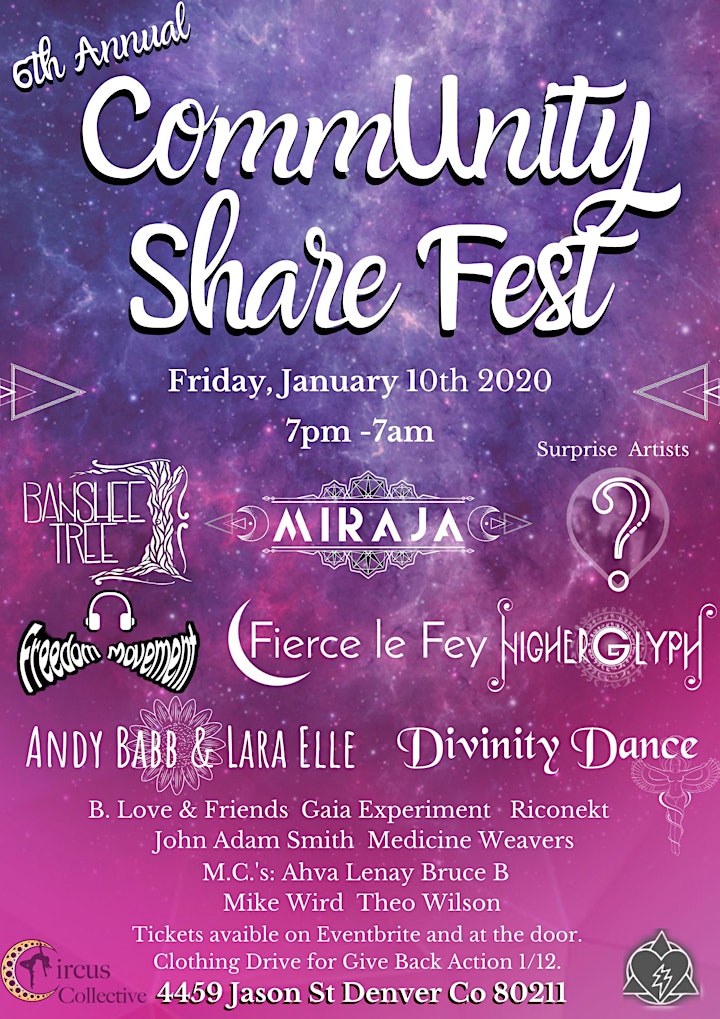 We Are Change Colorado & Rainbow Lightning present: the 6th annual CommUnity Share Fest on Friday January 10, 2020 at the Circus Collective in Denver. 7pm-7am. Address: 4459 Jason St
Limited tickets available (<200):
Eventbrite pre-sale tickets - $20 // Day of at the door - $25
CommUnity Share Fest is a party with a purpose, where we unite together for a one night music festival and clothing drive featuring live music, art, vendors, food & drink, aerial performances and many surprises. We invite all attendees to share warm clothing donations (winter coats, hats, gloves, socks, sleeping bags, tents, etc). Then on the following Sunday January 12th, we gather at Circus Collective to pick up all the donations and go share them with those in need outside the Denver Rescue Mission from 2pm-4pm. We call this follow-up event the Give Back Action. Please join us for both events!
Music lineup featuring: Banshee Tree - MIRAJA Music - **Surprise Artists** - Freedom Movement - Fierce le Fey - HigherGlyph - Andy Babb & Lara Elle Music - Divinity Dance - B. Love Beatbox & Friends - Gaia Experiment - Riconekt - John Adam Smith - Medicine Weavers (Shaela Noella Music's newest project)
MC's:
Ahva Lenay (Rhythm Sanctuary)
Bruce B (We Are Change Colorado)
Mike Wird the 33rd Octave
Theo E.J. Wilson
Aerial performances by students of the Circus Collective Community.
Live painters:
Christopher Surposa - Noble Arts Project
Franki Zinke - Art of the Animal
Nova Lee - Nova Lee
Ransom Waring - Recreating Ransom
Massage:
Charles Soupios is offering pain therapy using gentle muscle resistance mixed with massage techniques.
Divinity Dance is offering tantric healing and private dance sessions.
Erica Belfiore is a Postural Bodywork Therapist specializing in positional release and joint manipulation using tools that set the the body back into neutral.
Olivia Sophie is a Thai Yoga practitioner combining uses of targeted acupressure, stimulation/manipulation of energy lines & assisted stretching.
Sponsors (ABC order):
Crest Exteriors
Golden Turtle Sounds
HeartFire Festival
Herbs & Arts
ILitDesigns
Ish's Dishes
Journeys For Conscious Living
Joy's Kitchen
Starwater Collective
Sweet Heart Hemp
Tribal Vision
United We Stand Tour - Sister Winds Festival
More TBA!!
Vendors:
ILitDesigns - offering unique one-of-a-kind vintage and upcycled jackets, custom glasses, embellished hats, and biodegradable glitter applications for you face and body to light up your evening glow.
Iridescent Essences - offering flower & crystals essences, infused essential oil Aura Mists, herbal products, costom spell & intention candles, hypnotherapy, reiki,custom apparel and more!
Ish's Dishes - offering heal conscious foods and Ish's Brew Jun.
Island Time Vibes Foods is offering an all organic plant based/vegan mobile food kitchen serving high vibrational mineral rich meals that are made with love including house made sliders, wings, fries and more.
Spirit of Light Designs - offering intentionally crafted essential oils blends made with magic and love as well as feather talismans (earrings and hair extensions).
Ubbe MacLean - life enhancement coach, reiki master and clinically trained psychotherapist - offering psychic Rune Readings.
More vendors TBA!
Huge thanks to everyone on the team helping make this grassroots production possible!! Special shout outs to Taylor with Rainbow Lightning for helping with the first graphics & door, Treaphort for offering his Golden Turtle Sound system, Erick Crumb for helping with audio, visuals & stage, Zoë Clare StarWater for bringing the StarWater Collective bar, Lynnie Jean for the new graphic, all the local musicians who are playing for reduced rates and our hosts at the Circus Collective for offering us a place to gather.
With less than 200 tickets available, it's likely this will be the first year CommUnity Share Fest will reach full capacity. Plan ahead and get your tickets now before it sells out!!
Here's a video of the Give Back Action after our first CommUnity Share Fest in 2015!! -->> https://youtu.be/FvFWcmaLTVM
Here's a video of the Give Back Action in 2018 --> https://youtu.be/rbWCJ9QvsXA
Don't forget to bring some warm clothes for the follow-up Give Back Action on Sunday from 2pm-4pm at Denver Rescue Mission (Park Ave & Lawrence)
Remember..
"For it is in giving that we receive."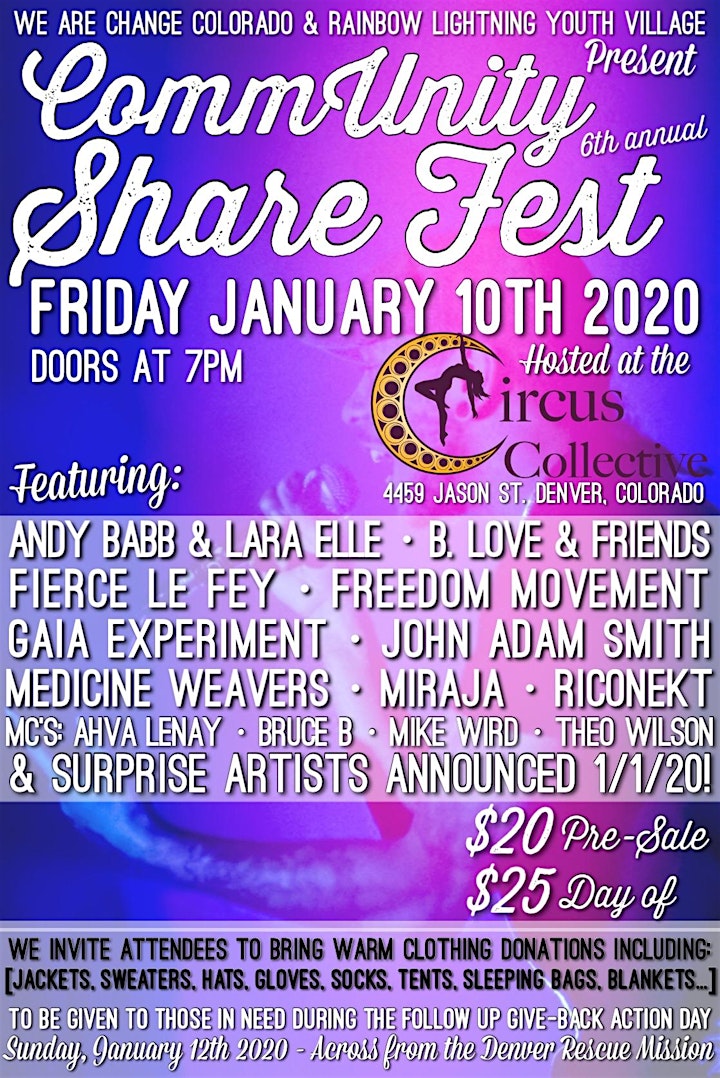 Schedule
Friday, January 10, 2020
7 PM - CommUnity Share Fest opening spoken word w/ Theo Wilson
7:15 PM - Medicine Weavers (Shaela Noella's new acapella group)
7:45 PM - CommUnity Movement w/ Ahva Lenay from Rhythm Sanctuary
8 PM - Fierce Le Fey
8:30 PM - Aerial Performance
8:45 PM - Andy Babb & Lara Elle
9:15 PM - John Adam Smith
9:45 PM - Spoken word w/ Mike Wird
10 PM - Banshee Tree
11:30 PM - Aerial Performance
11:45 PM - **Surprise Artists**
12:15 AM - B. Love & Friends
12:30 AM - Riconekt
1 AM - Freedom Movement
1:45 AM - Divinity Dance
2 AM - Miraja
3 AM - HigherGlyph
4 AM - Gaia Experiment (Live Improv)
5 AM - Surprises until we start cleaning