Community Rights Awareness Workshop - Newmarket, NH
Description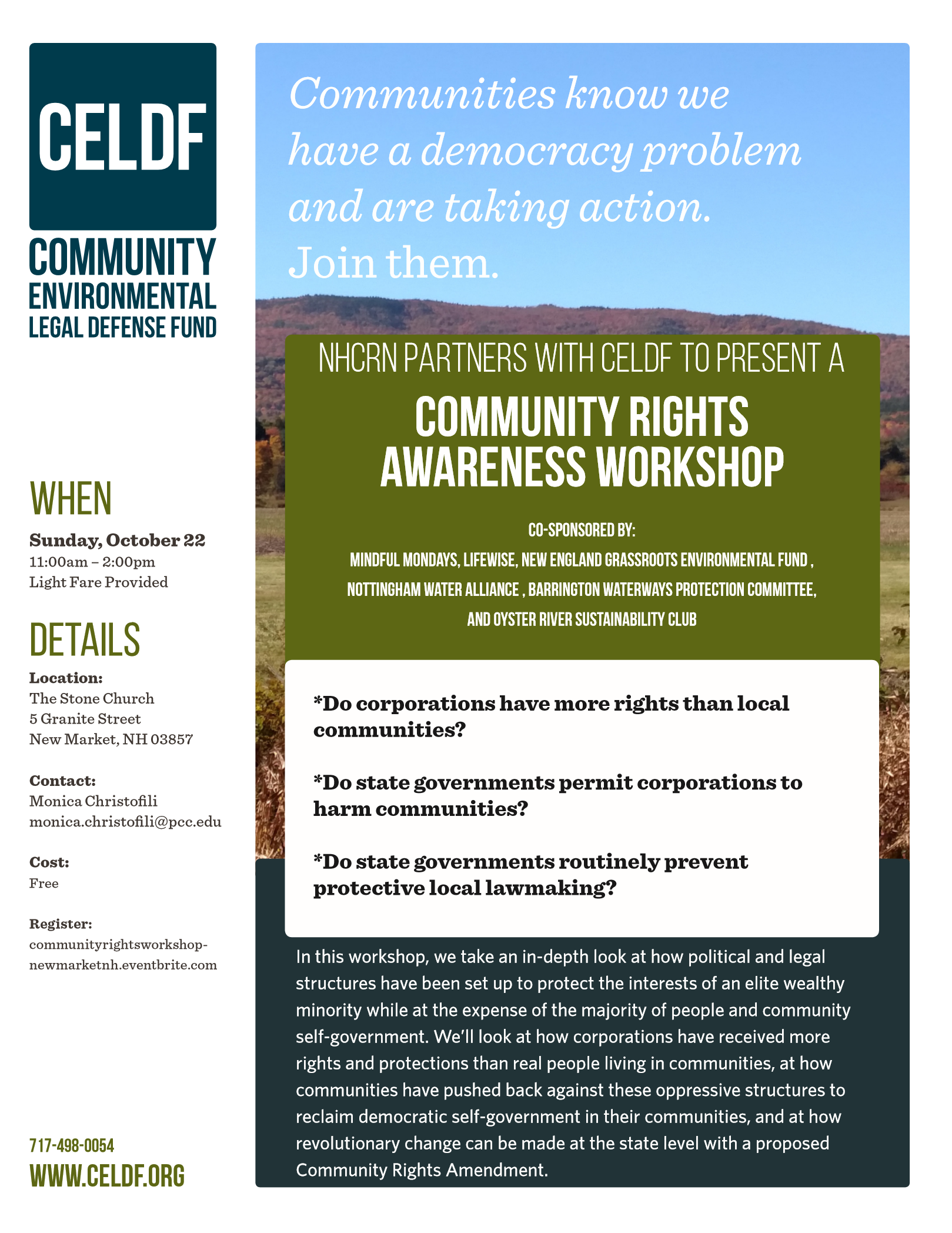 Upon learning about leakage of PFCs from the Coakley Landfill Superfund Site, Pease Air Force Base, and other industrial locations in the Seacoast region, residents attended a panel discussion, "What's in Our Water & What Can We Do About It?". Michelle Sanborn of Community Environmental Legal Defense Fund (CELDF) and NH Community Rights Network (NHCRN) was invited to participate to share CELDF's local rights-based organizing strategy and NHCRN's state community rights organizing goals.
Seacoast resident, Monica Christofili, helps to organize the Mindful Mondays events at the Stone Church in Newmarket, and now seeks to bring together residents from the region to learn more about what their community can do to protect the people and places surrounding the Coakley Superfund Site, Pease Air Force Base, and quality of our water.
The Community Rights Movement in the Granite State began in Barnstead, with the nearly unanimous adoption of a rights-based community ordinance in 2006, to protect the "Right to Water" by banning commercial water mining. The Movement has spread to other communities across the state seeking to legalize democratic local self-governance in order to protect the health, safety and welfare of both human and natural communities. Barnstead residents picked up the Community Rights torch again in 2016 by enacting the first-in-the-nation "Freedom From Religious ID Requirement" Community Bill of Rights.
The NH Community Rights Network (NHCRN) is sponsoring this event as part of our Community Rights Awareness Campaign. Co-sponsors include Mindful Mondays, LifeWise, Nottingham Water Alliance, New England Grassroot Environmental Fund and Barrington Waterways Protection Committee, and Oyster River Sustainability Club representing Oyster River High School in Durham, NH.

A light fare will be provided. For additional information, contact Monica Christofili at monica.christofili@pcc.edu