Description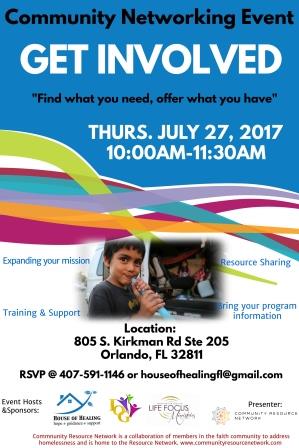 In partnership with Images of Glory (IOG), Life Focus Ministries and the Community Resource Network, this event will create space for dialogue, resource sharing, and important training on how faith-based organizations "The Churches" can expand their missions, resources, and impact on the lives of those we all serve.
Please bring your biz cards, program literature, etc. to share with the attendees and to be added to the Resource Network database. Thank You!
"Find what you need and offer what you have"
Training will be provided by Community Resource Network.
Community Resource Network is a collaboration among members of the faith community to address homelessness across Central Florida. Our network will support the region's programs of response to housing instability, complementing the work of local governments, the Open Table approach, and nonprofit agencies. www.communityresourcenetwork.com