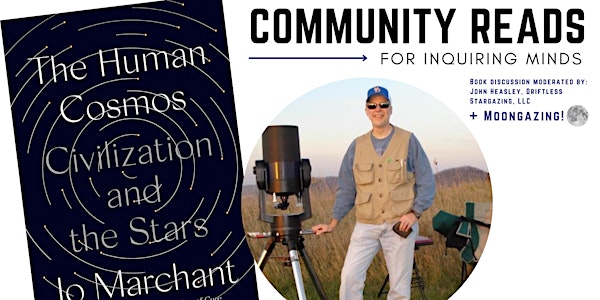 Community Reads for Inquiring Minds: Human Cosmos
We will be discussing The Human Cosmos: Civilization and the Stars by Jo Marchant.
When and where
Location
Galena Public Library 601 South Bench Street Galena, IL 61036
About this event
The discussion will be led by John Heasley (he/him), Driftless Stargazing, LLC. After the discussion, John will set up a telescope for safely viewing sunspots if skies are clear. This is an in-person event held outdoors at the Galena Public Library.
Community Reads for Inquiring Minds is an ongoing series in which community experts lead discussions of fascinating, non-fiction books.
Human Cosmos: Civilization and the Stars:
For hundreds of generations, humans have been stargazing. We watched the movements of the sun, moon, and stars and learned the cycles of days, months, seasons, and years. We connected the stars, created constellations, filled the sky with our stories, and passed on to the next generations what mattered most to us. In the last centuries, observers have studied the starlight more carefully and discovered an amazing story of how galaxies formed and created the stars that fused the elements that made life and stargazers possible.
John Heasley is an experienced stargazer and astronomy educator with Driftless Stargazing LLC. He connects people with the cosmos with presentations for libraries, schools, and groups. He teaches and inspires people of all ages at UW-Richland, Kickapoo Valley Reserve, and Taliesin. He shares his love of the starry skies at events, gatherings, and celebrations. He has created "star parties" for weddings, family reunions, birthday parties, business conferences, farm-to-table dinners, and outdoor concerts. John taught English for 30 years in The Netherlands, Boston, Madison, and Richland Center. He received training as a space educator through Space Education Initiatives and Arizona State University Mars Education Program. He was first wowed by the stars at the Fels Planetarium in Philadelphia and the Pine Barrens of New Jersey.