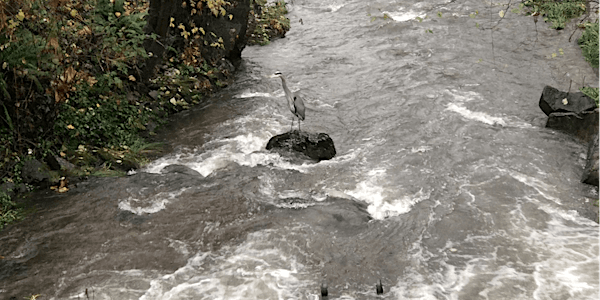 Community Rain Garden Build to Protect North Vancouver's Wagg Creek
Join us in building a community rain garden to help protect the health and resiliency of North Vancouver's Wagg Creek.
When and where
Location
Wagg Creek Chesterfield Avenue & 22nd Street West North Vancouver, BC V7M 2T8 Canada
About this event
North Shore Streamkeepers, the City of North Vancouver, and the North Shore Rain Garden Project (NSRGP) are coming together with the community on December 10 to build a rain garden at Chesterfield Street and West 22nd Avenue adjacent to Wagg Creek, one of the most threatened creeks on the North Shore.
The North Shore's watershed systems of rivers, streams, and creeks, many of them salmon-bearing, are fed by a combination of rain and melting snowpack. These factors have contributed to flooding, erosion, and damage to salmon habitat, particularly when the urbanized landscape does not provide adequate permeable surfaces for water. The North Shore has also experienced industrial and residential toxic spills that have contaminated the watershed.
Installing rain gardens is one way to help overcome climate change's imapact on local streams. Rain gardens are designed to intercept, filter and absorb contaminated stormwater run-off from impervious surfaces such as streets and sidewalks, parking lots, driveways, and roofs—particularly during heavy rain—rather than entering the storm sewer system. Planted with plants tolerant of our increasingly wet winters and dry summers, rain gardens can improve the health and resiliency of streams while enhancing biodiversity and creating healthier ecosystems.
Created under the auspices of Simon Fraser University's Faculty of Environment, NSRGP is grateful to the supporters and organizations, municipal governments and community groups who are helping to get this project 'in the ground,' including The Nature Trust of British Columbia, City of North Vancouver, Pacific Salmon Foundation and North Shore Streamkeepers.
NOTE: Dress for potential rain and cool temperatures. Light refreshments will be available.
The challenges facing Wagg Creek were documented in a 2020 short film called "The Story of Wagg Creek," produced by Joanna Ashworth, NSRGP director and Research Associate with SFU's Pacific Water Research Centre. The film was funded in part by a City of North Vancouver Living City Grant.
Follow North Shore Rain Garden Project on Facebook.
For more information, contact: raingardens.northshore@gmail.com