Community Pride teams up with Sebastian's Creative Spaces to host an art-centered event for kids of all ages!
About this event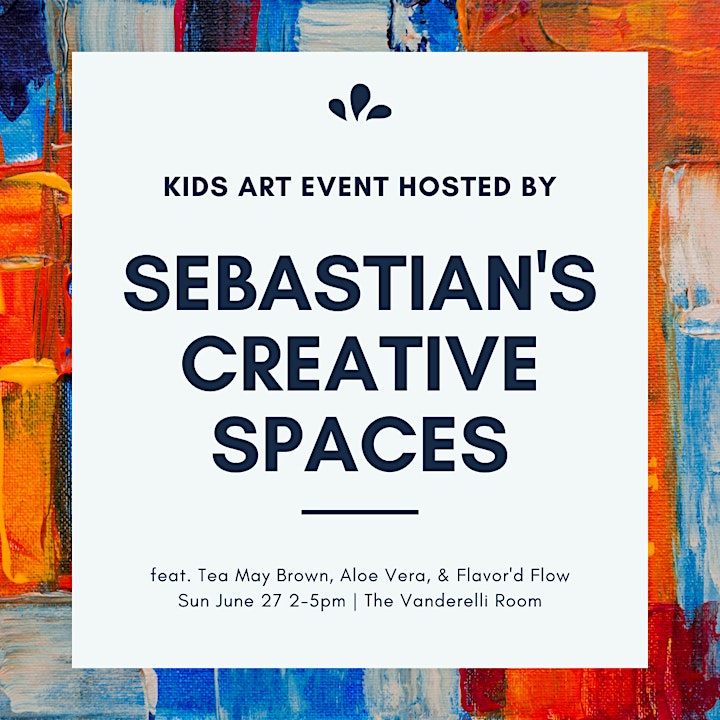 Sebastian's Creative Spaces (SCS) is proud to be partnering with Community Pride 2021! On June 27th, SCS will be hosting a youth based arts event at The Vanderelli Room from 2-5pm. Local BIPOC artists Tea May Brown and Aloe Vera will present the topic of social justice to kids ages 3-13 in a creative context that is relatable to all ages. We'll also be enjoying a dance performance by members of Flavor'd Flow Studio to get those creative juices flowing!
This FREE event is being held outside of the gallery space of The Vanderelli Room and will be picnic style seat. Feel free to bring a blanket and some food. Don't worry if you show up empty handed, seating and food will be provided! SCS: Pride and Social Justice Edition is open to all kids ages 3-13 and their families. Art supplies will be provided for up to 40 kids. RSVPs are not necessary but supplies will be first come first serve and if you RSVP here on Eventbrite they'll send you a reminder email, which is nice!
*** Because children are not as easily eligible for the COVID vaccine, this is a MASKED EVENT! We will be outdoors but for the safety of everyone, we ask you bring a mask. Masks will be provided if you forget. Thank you for your consideration. ♥ *****
Share on Facebook: https://fb.me/e/2rtI0nyrz
--------------------------
About the artists and sponsors:
Sebastian Creative Spaces (SCS) is a youth arts initiative with a mission to uplift BiPOC artist and connect them with youth 3-13 years of age. SCS strives to create art experiences for kids where they are encouraged to express themselves creatively with artists who have a passion to teach youth. The topics can be free form or set to a theme for the session, such as this one on social justice!
Tea May Brown (they/them) is a non-binary lesbian who finds equal parts joy and frustration in the act of creation. Though newer to Columbus, they love the city and the potential for creative collaboration in not just art but in the fight for liberation. They are a tarot reader, a parent, a writer, a teacher, and lover of all things Black. They are currently a core organizer for BQIC and help facilitate the community care team.
Aloe Vera (they/them) is a non-binary musician, poet, and organizer that calls Columbus home. Having put together festivals, protests, and touring the country they are invested in grounding their experiences in mutual aid and sharing loving community. Striving toward a love ethic in all works they hope to make space and community in all they do.
Flavor'd Flow Studio is Columbus' first Hip-Hop cultural-based dance studio. Founded in 2017 by James Alexander, also known as Bboy Osuga, this studio is located on the south side of Columbus, Ohio and resides on the first floor of an old rec center. The gymnasium has been transformed into a hip-hop dance studio covered in graffiti art and positivity. Flavor'd Flow has a mission to make an impact in children's lives through Hip-Hop culture and it's dances. Classes offered by the studio instill confidence, discipline, and structure through foundation. Each child learns the importance of respect, diversity, hard work, and teamwork. Flavor'd Flow Studio prides itself on giving kids of all backgrounds an outlet a safe place to dance. Come see their performance at the SCS event! http://www.flavoredflowstudio.com/
Bookspace Columbus has been a bookseller whose main aims are to spread awareness through the Columbus, Ohio area through self-education, self-empowerment, and community involvement. Bookspace has distributed quality books and zines via flea markets, poetry readings, and other events throughout Columbus. The ultimate goal is to occupy a full-sized shop of Bookspace's own, to distribute many more books, zines, and art, but also to host community-building events such as readings, shows, skill-sharing workshops, art exhibitions, and other educational events/performances. Bookspace is sponsoring a book raffle at the June 27th event! Support your local bookstore Bookspace by checking out one of their outdoor pop-ups or by shopping online at https://bookspacecolumbus.com/
--------------------------
As much as we possibly can, every Community Pride event, including the Festival, will be FREE to attend. Our pride will not have corporate sponsors, and we will not invite the police. To help keep this going and make the 2021 festival our biggest and best yet, donate to Community Pride at http://bit.ly/FTP21
Subscribe to our e-newsletter for updates on upcoming events and volunteer opportunities, or learn more about Community Pride on our website.