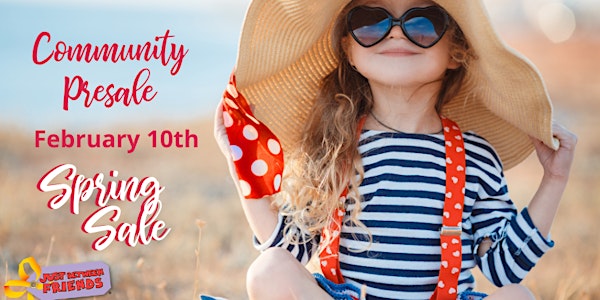 Community Presale | JBF OP Spring 2021
Early Shopping | JBF Overland Park Community Presale
When and where
Location
Overland Park Convention Center - Exhibit Hall B 6000 College Blvd Overland Park, KS 66211
About this event
You're invited to shop the Community Presale!
Wednesday, February 10th, 2021
Whether you're a first time parent or grandparent, teacher, military family, foster parent, adoptive parent, healthcare hero, front line worker or first responder, we think YOU are super special. 😍 We invite you and a friend to shop the best deals, and selection, BEFORE we open to the public.
At Just Between Friends, you'll find everything you need to clothe and entertain your kiddos for the warmer weather. 👕👟👙 The best part? Prices are generally 50-90% less than retail. 🤑
To maintain proper social distancing, we are limiting occupancy. Please select your entry time.
- - - - - - - - - - - - - - - - - - - - - - - - - - - - - - - - - - - - - - - - -
Here's how it will work:
Select your shopping time and register for a ticket in advance. We've spaced out our shopping times to allow for social distancing. This saves your "spot" to enter. You may shop as long as you'd like until we close at 9pm.
We are committed to continuing to provide a shopping environment that is safe, spacious, and sanitary. Please read our Safety Plan here.
Please Note: To manage occupancy, and limit your wait time to enter the building, you will need to select your shopping time. Children do not need a ticket but do contribute to the overall occupancy numbers. For this reason, we recommend leaving them at home if at all possible. Tickets are limited, so claim yours now!
EXPERT JBF SHOPPER TIPS:
Bring a friend or relative so that you can "divide and conquer" our huge sales floor (each adult will need a ticket).
Bring your shopping list with clothing and shoe sizes.
Budget to shop for the next 6 months of your child's life (until our next sale!).
PAYMENT INFO:
We accept cash as well as VISA, MC, AMEX and Discover.
Full Sale Schedule
Wednesday, February 10th
• 9am-9pm - Consignors & Team Members Presale
• 1pm-9pm - Prime Time Shopping - $10 admission
• 3pm-9pm - Community Presale - Free
Thursday, February 11th
• 9am-8pm - Open to the Public - Free with ticket
Friday, February 12th
• 8am entry - Open to the Public - At Risk Shopping - very limited capacity - Free
• 9am-8pm (NEW Merchandise Added) - Open to the Public - Free
Saturday, February 13th
• 9am-8pm - Open to the Public - Free
• 6pm-8pm - Half Price Presale* - $10 admission
Sunday, February 14th
• 9am-3pm (Half Price Day*) - Open to the Public - Free
*Items without a star on the tag are half off.
~ We can't wait to see you -- from 6' away -- at the sale! 😷💜