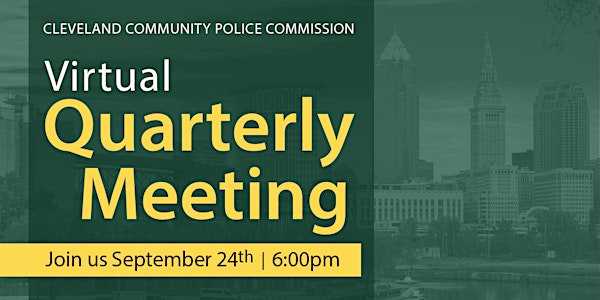 Community Police Commission: Virtual Quarterly Meeting
Voice your concerns, ask questions or comment on topics related to policing in Cleveland.
About this event
You are invited to join the virtual quarterly community meeting with the Cleveland Community Police Commission (CPC) on Thursday, September 24 at 6:00pm.
Quarterly meetings are intended to be a space for all CPC Commissioners and the Cleveland community to discuss the status of police policy reforms as mandated by the 2015 Consent Decree. Better policies will help ensure policing in Cleveland is safe, effective, and that people's civil rights are upheld.
Questions in advance are appreciated. Questions will be addressed during the Q&A session or submit your questions beforehand to: info@clecpc.org.
The meeting will be held on Webex and streamed live on the CPC's Youtube channel here: bit.ly/216cpc-youtube
Join Webex Meeting:
https://cityclevelandoh.webex.com/cityclevelandoh/onstage/g.php?MTID=e5ce5595a74b911bbffe6831f9372500c
Event number (access code): 172 697 3938
Event password: 1216
Join by Phone:
+1-415-655-0003 US Toll
Show all global call-in numbers
Access code: 172 697 3938
(note: if you join by phone before the meeting has started, you will receive an error message.)
Meeting Agenda
6:00 - 6:05 pm - Online Meeting Conduct and Guidelines (Goodrick)
6:05 - 6:15 pm - Welcome & Recognition of Community Members (Co-Chairs)
6:15 - 6:45 pm - City of Cleveland Internal Affairs Update (Ronald Bakeman, Superintendent Internal Affairs Unit, Cleveland Division of Police)
Commissioner and Public Q&A
6:45 - 7:15 p.m. - Commissioners Community Update: (Co-Chairs & Commissioners)
Public Interest/ Status of Relationship with City (Retreat) (Co-Chairs)
What are we Working on? Work Group and Project Updates for Community
Operation Legend/ Operation Relentless Pursuit (Jackson/ Logan/ Katz)
Discipline Work Group (R. Jackson)
Search and Seizure Work Group (G. Friedman)
Pursuit
Youth Interaction
Transgender Interaction
Accountability Work Group (L. Logan)
Community Training Feedback
District Awareness Training
Officer Wellness (M. Testa)
Homicide Investigations from Community Perspective (G. Maxwell)
Youth Work Group/ Future Leaders (F. Knuckles)
Community and Problem-Oriented Policing (CPOP) (H. Hadley)
7:15 - 7:30 pm - Community Q&A/Comment Period
7:30 -7:45 pm - Commissioner Business
New Call for New Business / Votes Record
7:45 pm - Meeting Adjourns
*meeting agenda is subject to change. Thank you for your support and investment in police reform efforts that reflect the voice of the community.