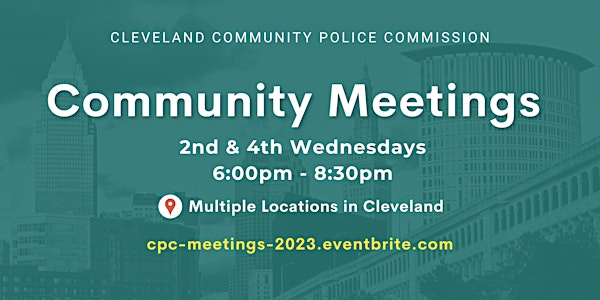 Community Police Commission: Community Meetings
Join the Community Police Commission to voice your concerns, ask questions, or comment on topics related to policing in Cleveland.
By Cleveland Community Police Commission
Location
City of Cleveland Cleveland Cleveland, OH 44114
About this event
126 days 1 hour

Mobile eTicket
The Community Police Commission needs to hear from you
Join the newly appointed Commissioners on the 2nd and 4th Wednesdays of the month at 6:00pm - 8:30pm to share your experiences and perspectives about policing in Cleveland.
Community voices are essential for the Commission to fulfill its mission to bring about police reforms that reflect the needs of the citizens of Cleveland.
Locations
Meetings will be held at different locations around the city of Cleveland to ensure the Commission hears from as many communities as possible.
Public Comments
Meetings will begin with open community comments. We are here to listen to you.
- What are your questions and concerns about policing in Cleveland?
- How can Commissioners meet community expectations?
If you are unable to attend an in-person meeting, please send your questions to the CPC at info@clecpc.org, or through our Contact Form.
Meeting Live Stream
Meetings will be streamed live on the CPC's YouTube channel and broadcast on Cleveland's TV Channel 20 following the live stream.
Join us at an Upcoming Meeting
Locations will be announced as details are finalized. RSVP by selecting the ticket with the meeting date.
Pre-registration is not required, but is appreciated.
Wednesday, April 12th
(Location TBD)
Wednesday, April 26th
(Location TBD)
Wednesday, May 10th
(Location TBD)
Wednesday, May 24th
(Location TBD)
Wednesday, June 14th
(Location TBD)
Wednesday, June 28th
(Location TBD)
About the organizer
The Cleveland Community Police Commission (CPC) was established in 2015 as part of the Consent Decree between the City of Cleveland and the U.S. Department of Justice. The CPC works with the community to provide input on police policies to help strengthen relationships between officers and the communities they serve. Better policies will help ensure policing in Cleveland is safe, effective, and that people's civil rights are upheld. For more information, visit the CPC's website: www.clecpc.org