Community Partner Registration, Dyslexia Advocacy Day in Annapolis, 2018
Sales Have Ended
Registrations are closed
Ticket sales are now closed. If you have questions or would like information, please contact Decoding Dyslexia Maryland at DecodingDyslexiamd@gmail.com
Sales Have Ended
Registrations are closed
Ticket sales are now closed. If you have questions or would like information, please contact Decoding Dyslexia Maryland at DecodingDyslexiamd@gmail.com
Description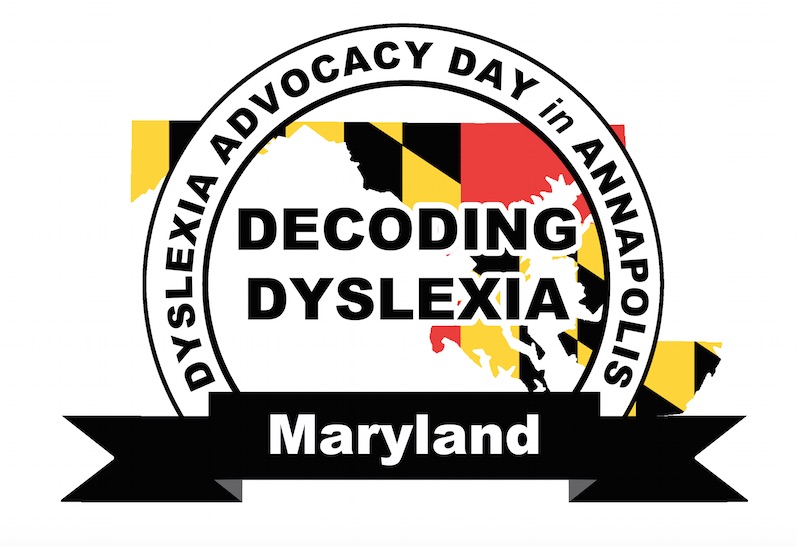 WHEN: Thursday, Feb. 8
WHERE: Annapolis, Maryland, Lowe House Office Building, Room 170 & 180
SET-UP: 7-8am
OPEN HOUSE: 8-9am
PROGRAM: TBD
Legislative Meetings: Throughout the day
EXHIBITS CLOSE: 3pm
___________________________________________
Decoding Dyslexia Maryland would like to invite you to participate in Dyslexia Advocacy Day in Annapolis 2017. There is one level of sponsorship and the participant fee is $50. Each participant will be able to:

Display literature and information about your school, business and/or outreach that helps students with reading differences or dyslexia learn to read;
Enjoy the policy presentations;
Receive packets to leave behind with your legislator;
Have your logo included on invitations, signage and the website;
Enjoy breakfast and lunch, including beverages;
Access state legislators and policymakers;
Connect with parent and teacher attendees with information and resources; and

Advocate for reading & dyslexia awareness and policy in Maryland.
The participation cost is $50 per organization, Deadline: 1/25/18 if you would like your logo included on printed materials.
All donations underwrite the purchase of food, beverages, and materials for this event. No money is spent to pay salaries (we work for free).
Thank you,
Jaclyn Paris, jaclynddmd@gmail.com
Community Partner Coordinator

Decoding Dyslexia MD


Decoding Dyslexia Maryland is a grass roots, parent-led organization that works solely to benefit students with reading difficulties like dyslexia and educators who serve these students. DDMD is not a registered 501(c)(3) and operates as an unincorporated non-profit.
---


DETAILS
TENTATIVE SCHEDULE & Set Up
7:00-8:00 am -- Set up exhibit tables in Room 170, Lowe House Office Building
8:00-9:00am -- Meet & Greet with attendees and invited participants; breakfast and beverages.
9:00-1:00pm -- Program in Room 180 and is yet TBD
1:00-3:00pm -- Room is open and available as a hub where attendees will be encouraged to visit the Community Partner tables and network. Legislative meetings are scheduled during this time frame so families will be in and out and will use the rooms as a home base.


---
PARKING & BUILDING SECURITY
Public Buildings Map and Parking Options -- If you park at the Navy-Marine Corps Stadium to take the shuttle, the cost is $4 round trip and $5 to access the parking lot at the stadium. The shuttle requires exact change in cash. Reserve at least 20-30 minutes to park, catch the trolley and ride to your destination. There are a number of parking garages within walking distance to the Lowe House Office Building and Gott's Parking Garage is the closest. The entrance to the Lowe House Office Building is on the side of the building on Bladen Street, middle door.
---
LEGISLATIVE MEETINGS & RESOURCES
If you choose to meet with your Delegates and Senators, here is information to get you started. Students from partner schools are welcomed to attend.
Please be sure your meetings are scheduled in advance of February 8 to ensure that legislators have your group on their schedule. Decoding Dyslexia members also will be available to attend meetings and/or help you make your appointments should you need help.
Appointment Request Letter to Legislator Template (Editable Google document)
Who are my State Legislators? You need to enter your address to see your list of State Senators and State Delegates.

We hope you can make it!
Decoding Dyslexia Maryland