Community Opioid Awareness Workshop & Film Screening
This event will engage the community, health professionals and faith leaders in a dialogue about faith, science and opioid addiction.
About this event
The American Heart Association and the Opioid Response Network have joined forces with 10 churches to address the increased use of opioid and stimulant use among Black/African American and Hispanic/Latinx people. Our church has been picked to join this EmPOWERED to End Opioid Use faith-based network.
Following the health lesson, the event will include a screening of the film "What About the Kids?" The film was written and directed by Jim Wahlberg and gives a view into the true cost of addiction through the eyes of an 8-year-old girl whose parents are addicted to opioids. The film is based on Wahlberg's own addiction and highlights the importance of faith and family on the journey to sobriety.
Health Lesson
Film Screening "What About the Kids"
Post-Film Panel Discussion
Resources
Tote Bag
Take-Away Refreshments
Join us in driving change through health justice!
Two Dates and Locations
Saturday, September 18, 2021
3:00pm-6:00pm
25 Pennsylvania Avenue, Newark, NJ
Sunday, September 26, 2021
2:00pm-5:00pm
490 Pacific Street, Brooklyn, NY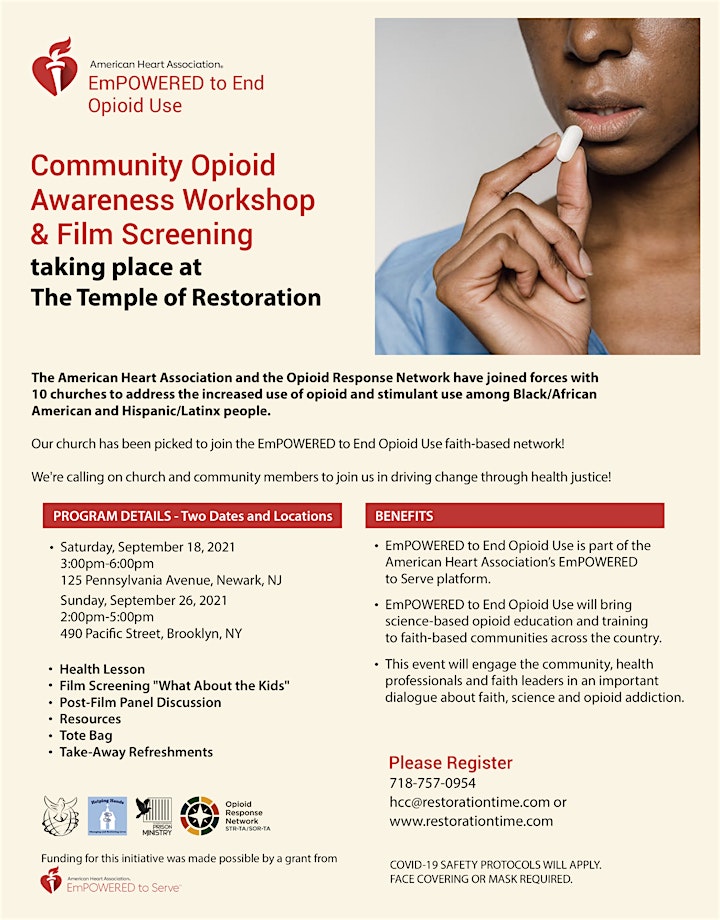 Organizer of Community Opioid Awareness Workshop & Film Screening
Helping Hands Ministry is a faith-based social ministry of The Temple of Restoration.  Our community outreach programs focus on: finance, family, health and youth enrichment.  The ministry addresses the practical and social well-being needs of the community.
The Temple of Restoration ("TTOR") is a Pentecostal Ministry founded on November 12, 2000 in Brooklyn, New York by Bishop Angelo Barbosa. Since 2000, the church has grown from 12 people to several thousand who worship in locations throughout the United States and abroad.  www.restorationtime.com