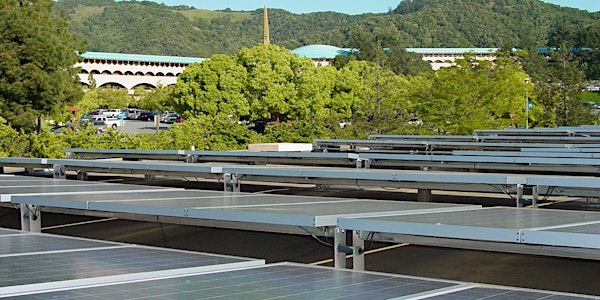 Community Meeting: Marin's 2022 Green Building and Electrification Policy
Marin jurisdictions are advancing green building codes to address the climate emergency. Attend this FREE community meeting to learn more.
About this event
This countywide community meeting is an opportunity to learn, discuss, and help shape Marin's Proposed 2022 Green Building Model Code and Ordinance. This virtual event is open to all. Marin community members, residents, community based organizations, businesses, and government officials across all twelve incorporated and unincorporated jurisdictions are highly encouraged to participate.
The event will feature speakers and content matter experts discussing the building policy levers, policy trends, and technology that will help our communities realize their commitment to climate action and carbon emission reductions. The audience will have ample time to ask questions from the experts. Hosted by the County of Marin, City of San Rafael, Town of San Anselmo, and MCE clean energy.

Agenda (1.5 Hours)
Introduction and Opening Remarks
Panel on Building Electrification and Decarbonizing the Grid: Planning for an All-Electric Future (see panelist details below)
Break out Rooms Discussion with the experts on Housing, Cost and Affordability, and Reliability and Power Outages
Closing Remarks
The Panel
Facilitated by Brian Reyes, Sustainability Planner at County of Marin Community Development Agency
Danuta Drozdowicz, Energy Specialist in the Building Standards Office of the California Energy Commission (CEC)
Misti Bruceri, Coordinator with CA State Codes and Standards Team
Tom Cuccia, Account Manager Customer Service & Stakeholder Affairs at California Independent System Operator (CAISO)
Tom Huynh, Senior Reliability Asset Planning Engineer at PG&E


Accessibility (English)
For disability accommodations please phone (415) 473-2797 (Voice), CA Relay 711, or e-mail greenbuilding@MarinCounty.org at least five business days in advance of the event. The County will do its best to fulfill requests received with less than five business days' notice. Copies of documents are available in alternative formats, upon request.
Accesibilidad (Español)
Para adaptaciones por discapacidad, por favor llame a (415) 473-2797 (Voz), Servicio de Retransmisión de CA 711, o envíe un correo electrónico a greenbuilding@MarinCounty.org al menos con cinco días hábiles de anticipación al evento. El Condado hará su mejor esfuerzo para satisfacer las solicitudes recibidas con menos de cinco días hábiles de antelación. Hay copias de los documentos disponibles en formatos alternativos, previa solicitud.