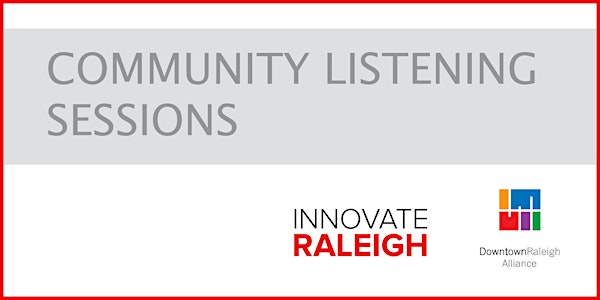 Community Listening Sessions with Innovate Raleigh
In-depth, small-group conversations to discuss ways to use the public realm more effectively to help Downtown Raleigh recover.
About this event
The Innovate Raleigh Community and Downtown Raleigh Alliance invite you to participate in virtual community listening sessions to help DRA gather stakeholder feedback and recommendations for uses of downtown's streets, sidewalks, and public spaces with regards to outdoor dining expansion and small-scale activations. These sessions are part of DRA's ongoing effort to help downtown emerge from the COVID-19 pandemic stronger and better than before.
Please sign up for only one of the three virtual sessions. The sessions are an hour and a half and host small groups in dynamic discussions facilitated by Innovate Raleigh community members .
If you have questions, please email taylorrankin@downtownraleigh.org