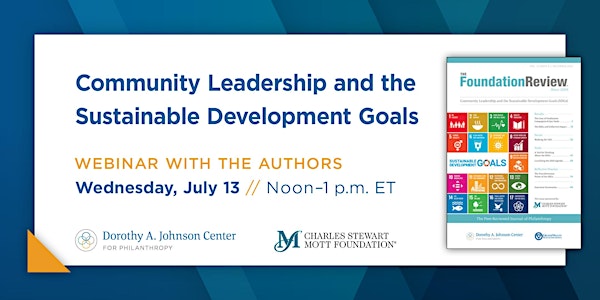 Community Leadership and the Sustainable Development Goals
Join us for a webinar featuring authors from The Foundation Review special issue on the SDGs!
About this event
The most recent issue of The Foundation Review focuses on the United Nations' Sustainable Development Goals (SDGs) and how they can be used as tools for community leadership. The SDGs, based on five pillars for sustainable development (economic, social, environmental, cultural, security), acknowledge that sustainable development needs to happen everywhere and that inequality exists within all communities. As such, the SDGs are meant to be implemented in all nations, with a focus on community-level actions and indicators that are meant to ensure that no one is left behind.
Join us for a webinar featuring several authors from The Foundation Review, volume 13, issue 4 to discuss how the SDGs can serve as a robust blueprint for anyone in philanthropy concerned about the many global challenges we all face.
Read the articles that inspired this webinar:
Price: Free
Registration Deadline: Tuesday, July 12
Presenters
Katie Leone, M.A., Hertz Global Holdings (formerly at Collaboratory)
Aysegul Timur, M.P.A., CivicLab
Anna Wasescha, Ph.D., West Central Initiative
Christa Otteson, M.A., Vela Strategy
Sarah Casey, B.S., West Central Initiative
Who should attend this course?
This workshop is open to community leaders — especially from community foundations and their stakeholders — who are interested in learning more about how to use the SDGs to advance their agendas in terms of community engagement, communication, and impact measurement.
Questions about this event or about your registration?
Please call Tiana Hawver at 616-331-7585 or email tiana.hawver@gvsu.edu.