Description
Please join us!
The Fort Drum Regional Health Planning Organization (FDRHPO) and North Country Health Compass Partners are pleased to be hosting their first-ever Community Health Hero Luncheon, and you're invited!

The Community Health Hero Award, given in honor of National Rural Health Day, recognizes North Country residents who have demonstrated outstanding public service and a commitment to improving the health and wellness of their community. One winner from each of Jefferson, Lewis, and St. Lawrence counties will be honored.
This year, we are pleased to present the following individuals with the 2018 Community Health Hero Award:
JEFFERSON COUNTY: Michelle Graham, Director of Health & Wellness, Watertown Family YMCA
LEWIS COUNTY: Kimberly A. Cavanagh, Mental Health Peer Advocate, Northern Regional Center for Independent Living
ST. LAWRENCE COUNTY: Dr. Pakkam Rajasekaran, Medical Director and Chief of Psychiatry, Claxton-Hepburn Medical Center
More information about each winner will be presented at the luncheon, and Watertown resident Roman Espinoza, founder of the "Blessing Box" movement, will be our guest speaker!
Agenda:
11:30 a.m. - 12:30 p.m. -- Registration and Buffet Lunch
12:30 - 1:00 p.m. --- Guest Speaker: Roman Espinoza
1:00 - 2:00 p.m. -- Award Presentations
Our Guest Speaker: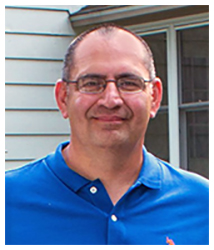 Roman R. Espinoza is the founder of the "Blessing Box" movement in Northern New York.
After first seeing the idea in a news story out of Texas, he recognized a need in our community and began constructing his own Blessing Boxes – which contain food and other essentials – to place in his lawn and his neighbors' lawns. As the project grows, Roman has partnered with local businesses and organizations for help, including Home Depot, SMF Construction, Cesario Family Dental, the Watertown Urban Mission and Northern Federal Credit Union. Today, 29 Blessing Boxes exist in the North Country.
A native of Kansas City, Kansas, Roman was one of 12 children -- 10 brothers and one sister. He enlisted in the United States Army on December 27, 1990, and served most of his 25-year career right here at Fort Drum. He has also been stationed at: Fort Wainwright, Alaska; Fort Carson, Colorado; and completed a two-year Drill Sergeant assignment at Fort Jackson, South Carolina.
While serving as a 12B Combat Engineer, Roman was deployed: to Homestead, Florida, to provide humanitarian assistance after Hurricane Andrew; to Somalia in support of Operation Restore Hope; to Haiti in support of Operation Restore Democracy; and served three tours in support of Operation Enduring Freedom in Afghanistan. He also completed a one year tour at Camp Howze, Korea. Along with service ribbons, expeditionary and campaign medals, Roman was also awarded three Bronze Stars, one of which included the "V" device for Valor.
After completing his time in the Army, Roman enrolled at Jefferson Community College (JCC), where he is currently a full-time student majoring in Chemical Dependency and Human Services. Roman and his wife, Mary, have been together for more than 25 years. They have one daughter, Alexandra, and one grandson, William.